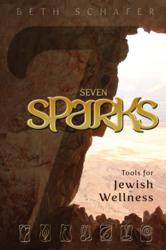 An entry-point text for people to quench their spiritual thirst in an immediately applicable way.
Orlando, FL (PRWEB) December 29, 2011
Drawing from personal experience and her study of Jewish texts, Schafer expounds upon a journey to emotional and physical wellness through storytelling, guided meditations, and directives that allow the reader to weave Jewish thought into everyday activities and lifestyle choices.
Each Spark conditions readers toward a healthy practice. Exercises at the end of each chapter support the reader to apply the Sparks to individuals, families, community and religious institutions.
The concept is the continuation of Schafer's journey as one of the leading American Jewish singer/songwriters. An extraordinary musician, producer, and composer, for over two decades Beth has performed for both Jewish and secular audiences.  "I would come in contact with all of these musicians from New Thought churches, and followers of the many motivational speakers like Wayne Dyer or Tony Robbins and wonder why I couldn't find that in the Jewish world. It seems like educated, active Jewish adults are flocking everywhere but their Jewish institutions to satiate their spiritual hunger." 
Seven Sparks which began as a sermon, grew to a series and became a part of Beth's Artist-in-Residency programs, resonated so profoundly with her audiences that she brought them together in the form of a primer. The book can be purchased at the company's website, http://www.positivejewishliving.com. The eBook version can be downloaded through Amazon, iBooks, Barnes and Noble and Sony download services.
Conceived and created by Beth Schafer, Rabbi Lisa Tzur, and John Marsden, Positive Jewish Living was founded in 2010, uniting mind, body, and spirit through a dynamic fusion of study, prayer, mediation, yoga, and exceptional music.
###