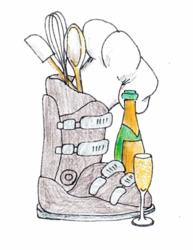 Vail, CO (PRWEB) December 28, 2011
Tana Stewart is a Vail resident and Master Japanese potter and is regarded a "grandchild apprentice of National Living Treasure Shoji Hamada". Tana has co-owned and operated the Alpine Tavern in East Vail, CO for well over a year with her husband Bill Stewart.
The logo created by Tana represents the four elements most important to the Alpine Tavern: Good food, Great Wine, Professional Service, and Ambiance.
Great Food: The cooking utensils represent the Alpine Tavern's focus on authentic, homemade dishes and sauces. Chef Paolo Bussi's global culinary skills create truly continental cuisine at the Alpine Tavern and were the inspiration for the chef's hat in the logo. A native of Florence, Italy, he brings experiences with Royal Viking Cruise Lines, Crystal Cruise Lines, and his own highly successful restaurant in Santa Fe, New Mexico. Traditional American, French, German, and Italian dishes are just some of the highlights of the Alpine Tavern's menu. Paolo constantly adds new and unusual dishes to the menu.
Great Wine: The wine and champagne in the logo represent the memories made at the Alpine Tavern. Their wine cellar presents wonderful choices including reasonably priced Napa, Sonoma, Chilean, and other international wines perfect for special celebrations. For the connoisseur they have an excellent selection of fine French and American wines.
Professional Service: Our international staff delivers, in the words of our customers "awesome service". Dining with the Alpine Tavern is a unique experience not just a meal. Everyone is recognized at our entrance as a valued individual and a treasured guest.
Ambiance: The boot is a symbol of Vail's connection with the mountain and nature. Diners can continue that connection off the mountain at the Alpine Tavern. Soaring ceilings, a roaring fire, dramatic lighting and alpine views result in Vail's premier mountain setting. White linen tablecloths, fine silver, crystal and crockery frame every meal. Experience a diverse and dramatic world of dining at the Alpine Tavern. Their dining room, the Edelweiss, presents a casual, but elegant ambiance.
Check out the Alpine Tavern's weekly music lineup in SneakPEAK Vail's event calendar.
The Alpine Tavern is not just Vail…..it's the best of Vail….in East Vail. Join us at 4695 Racquet Club Drive in East Vail. To make a reservations at the Alpine Tavern call 970-476-7888.
###