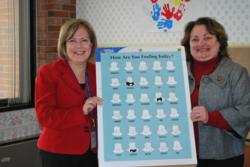 I often wonder if a support group had been available for me, how that would have changed my life.
Williamsport, PA (PRWEB) December 28, 2011
For most children, the holiday break is filled with happiness, family and fun activities. But this celebratory time of year can be especially difficult for a child or teenager who has experienced the loss of a loved one. Susquehanna Health's Heartworks program has been reaching out, especially during the holiday season, to children and their families to offer hope and healing throughout the grieving process.
Children's Bereavement Coordinator Pamela Wollet, a clinical social worker, has been providing educational presentations at libraries and schools in Lycoming County to increase awareness about children's grief and the program's resources. Last month, Wollet spoke with more than 260 freshmen in 10 health classes at Hughesville High School. In those classes, Wollet talked with students about the aspects of grief that come and go in life, shared a video with personal stories produced by Highmark's Caring Place and provided information on the resources available through Heartworks' peer support groups for children.
"Grief is certainly not a topic that everyone is comfortable with, but it's real. It's important to understand the process and that there are ways to help children cope with their emotional pain, heal and find a new normal," Wollet explained. In response to the health class presentations, the Hughesville High School students created a bulletin board and wore Heartworks wristbands in support of Children's Grief Awareness Day in November and to raise awareness about the impact the loss of a loved one has on the life of a child.
Established in 2009, Heartworks was developed under the leadership of Hospice Medical Director Dr. Alexander Nesbitt based on a perceived need for a program that offers help to children in the northcentral Pennsylvania area who have experienced the loss of a loved one. Heartworks hosts support groups twice a month with open registration for children and teens (ages 4 to 17) and their parents or guardians. This safe and nurturing environment enables participants to express their feelings and find healing in their time of grief. Trained support staff use art, music, play and peer support to help children understand and work through their emotions.
"When children experience the death of someone close to them, the emotions can be so overwhelming that it becomes difficult for them to express their feelings. Spending time with other children who have experienced loss enables the expression of these feelings through talking or playing," explained Wollet.
Wollet's passion for the program is drawn from personal experience. At age six, Wollet and her younger brother survived a serious car accident that claimed the lives of their parents and younger sister. "It was a life changing experience and it wasn't until I became an adult that I was able to resolve my grief," she said. Wollet is driven by her experience to help children through the healing process. "I often wonder if a support group had been available for me, how that would have changed my life," Wollet said.
For more information about Susquehanna Health's Heartworks program visit SusquehannaHealth.org or call 570-320-7691 or 888-499-3177.
About Susquehanna Health
Susquehanna Health is a three-hospital integrated health system including Divine Providence Hospital, Muncy Valley Hospital and Williamsport Regional Medical Center located in northcentral Pennsylvania. Serving patients from an 11-county region, Susquehanna Health is a healthcare leader and has been recognized at the national and state levels for quality of care. Susquehanna Health offers a wide array of services that include cancer treatment, heart and vascular care/heart surgery, neurosciences including neurosurgery, orthopedics, urology, OB/GYN, gastrointestinal services, behavioral health, physical rehabilitation, home care, long term care, assisted living and paramedic/ambulance services.
###