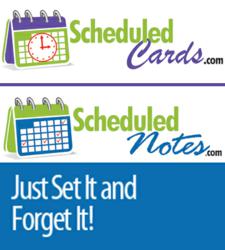 We couldn't believe how many people scheduled Christmas, Hanukah and New Years cards to send this year
Boca Raton, FL (PRWEB) December 28, 2011
Uinvite Inc. announced today that it sent a record number of holiday greeting cards through its ScheduledCards.com automatic greeting card scheduling system. The ScheduledCards.com system, and the commercial version at ScheduledNotes.com allows individuals and commercial customers to schedule greeting cards to an entire list of contacts, and have them send automatically on the occasion date. Once cards have been assigned to contacts, they're scheduled to send year after year automatically.
ScheduledCards features thousands of cards, conveniently organized into major holiday occasions throughout the year. Contacts can be imported easily from all major email programs and contact management software. Once contacts have been added to the system, they can be conveniently grouped to make it easy to find specific groups of contacts and set up schedules for all major religious and secular occasions.
The commercial version of the program, ScheduledNotes.com requires a low annual subscription fee, and includes features that allow businesses – small and large – to use the greeting card system, as well as the custom email and newsletter features to conduct relationship-based email marketing campaigns. By combining greeting cards and other types of emails with marketing messages, special offers and informational newsletters, businesses can cost effectively keep their names in front of clients throughout the year without the spam complaints that plague many email marketing campaigns. "Our customers tell us that instead of receiving emails back to be removed from the mailing list, they receive thank you replies after receiving a birthday card or a holiday card", says Steve Lipson, Uinvite, Inc. company president. The commercial version also boasts a list of features traditionally only found larger, more complicated bulk email programs, including email tracking, and templates to help create eye-catching newsletters and custom emails.
"We were a bit schocked when we saw the number of cards that were scheduled to send on Christmas day", says Lipson, but everything went off without a hitch, and all cards were delivered on time. Now we're bracing for New Years". Individuals and businesses can still take advantage of the ScheduledCards and ScheduledNotes systems to wish their friends, families, clients or business associates a Happy New Year. Signing up and importing contacts only takes a few minutes, and scheduling cards is a breeze.
To register go to http://www.scheduledcards.com (personal use), or http://www.schedulednotes.com (commercial use), and try it today.
###