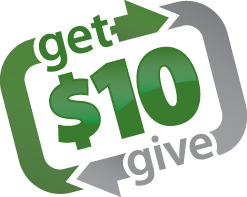 "I love the program," says David Simonsen, STP customer and Cheyenne resident. "I referred my daughter in Iowa, and she has already made a purchase. I will be referring others, too."
Cheynne, Wyo. (PRWEB) December 30, 2011
This fall, Sierra Trading Post put significant resources into retooling its customer referral program – Get $10, Give $10 – to create a more user-friendly and social-friendly platform for customers. The result has been substantial growth in new customer acquisition and program revenue for the multichannel retailer.
For the month of November, Sierra Trading Post reports new customer acquisition up 888% and program revenue up nearly 1000%.
"Acquiring new customers is always one of our top company-wide initiatives," says TJ Croissant, marketing manager for Sierra Trading Post. "We connect with many of our customers socially, and our hope is that these loyal fans will spread our brand message to their friends and family. Of course, rewarding new and existing customers with gift cards helps, too."
Sierra Trading Post has made the program very easy to use. It works like this:
1. An existing customer sets up a free account and invites friends to shop STP.
2. If those friends are first-time customers, they get $10 toward their first purchase.
3. The referring customer then gets $10 for each new customer.
"I love the program," says David Simonsen, STP customer and Cheyenne resident. "I referred my daughter in Iowa, and she has already made a purchase. I will be referring others, too."
For details about the program or to create a free account, visit http://stp.me/get10give10.
About Sierra Trading Post: Headquartered in Cheyenne, Wyo., Sierra Trading Post is a multichannel retailer known nationwide for offering "Great Deals. Great Brands." Sierra Trading Post purchases brand name overstocks, closeouts and 2nds, and offers customers 35-70% savings every day. Founded in 1986, Sierra Trading Post is celebrating its 25th anniversary, and has saved customers more than $3.25 billion on outdoor gear, shoes, men's clothing, women's clothing, accessories and home furnishings. A top 100 Internet retailer in sales per Internet Retailer Magazine, Sierra Trading Post operates four outlet stores in Boise, Idaho; Reno, Nev.; Cheyenne and Cody, Wyo.; with customer service call centers in Cheyenne and Cody.
# # #