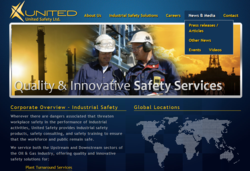 Our new relationships are highly strategic for United.
Dubai, UAE (PRWEB) December 29, 2011
United Safety Limited, a leader in safety equipment and consulting for the oil and gas industry, is elated about experiencing increasing recognition as an Upstream oil and gas safety services provider beyond the Canadian borders. The year 2011 has proven to be a strong year in the area of global expansion into brand new markets. With several strategic new relationships, the company is poised for substantial growth in 2012.
"Our new relationships are highly strategic for United" says Babar Shah, a United Safety Business Development Executive who's based in Dubai and has seen tremendous growth this past year with both large and small new customers.
"We penetrated Iraq and Bahrain through innovative solutions that met the unique safety needs of our clients, and we're excited about new projects in China. While China is currently on a small level, it's a symbolic achievement. In China we were able to build relationships with the IOCs such as Chevron and Shell."
"Other exciting advancements are SOCO and ENI in the Congo," he says, "In Congo, we had experience working with Total, and have subsequently won projects with ENI and SOCO. Between the three of them, we now dominate the offshore market in that area." Petroleum is an important industry for Congo. In 2008, for example, the oil sector accounted for 65% of the GDP, 85% of government revenue, and 92% of exports (source: http://www.state.gov/r/pa/ei/bgn/2825.htm).
About USS Upstream
USS has been providing leading edge upstream and industrial oil and gas safety products, training and consulting services in Canada since 1987. The company's industrial safety services are leveraged in some of the most remote and difficult locations worldwide. The company credits their "listening to the customer" philosophy as a primary reason for their continued success. Services and offerings include: breathing apparatus equipment, gas monitoring equipment, H2S & gas drilling safety services, education, and consulting, H2S protection equipment and H2S safety training. The company collaborates with customers to provide training and equipment that helps create safe and efficient environments. For more information, visit http://www.unitedsafety.net/.
Media Contact:
Yves Matson, Marketing Director
United Safety
104 East Lake Road, Airdrie, AB Canada T4A 2J8
1-800-432-1809,
Email: MatsonY(at)unitedsafety(dot)net
For more information, visit http://www.unitedsafety.net.
# # #