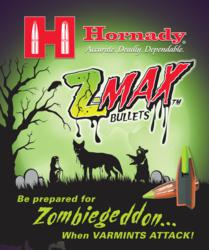 Z-Max bullets now available by Hornady Manufacturing.
Grand Island, NE (PRWEB) December 29, 2011
Hornady Manufacturing, an industry leader in bullet and ammunition technology, unleashes Z-MAX bullets in preparation for "Zombiegeddon".
These new bullets deliver ultra-flat trajectories. Hornady Z-MAX bullets combine new AMP jacket technology, with the devastating Z-Tip that provide explosive performance.
The Z-Max bullets are:

17 CAL .172 20 GR Z-Max (No. 21711)
20 CAL .204 32 GR Z-Max (No. 22003)
22 CAL .224 40 GR Z-Max (No. 22242)
22 CAL .224 50 GR Z-Max (No. 22262)
22 CAL .224 55 GR Z-Max W/C (No. 22274)
6MM .243 58 GR Z-Max (No. 22414)
7.62X39 123 GR Z-Max (No. 3143)
All are available in 500 count boxes.
These new bullets will be available from stocking dealers, major retail sporting goods stores and their websites.
Z-Max bullets are not a toy, it is live ammunition.
Founded in 1949, Hornady Manufacturing Company is a family owned business headquartered in Grand Island, Nebraska. Proudly manufacturing products that are made in the USA by over 300 employees, Hornady Manufacturing has become a world leader in bullet, ammunition, reloading tool and accessory design and manufacture.
For further information regarding Hornady products, visit the company web site at http://hornady.com. Media members interested in Hornady winning products for editorial review, should contact Everett Deger at edeger(at)hornady(dot)com.
###