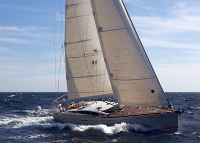 This beautiful ocean going, comfortable and luxurious Bordeaux 60 makes heads turn regardless of the port of call.
Newport, Rhode Island (PRWEB) December 30, 2011
Bluenose Yacht Sales, one of New England's primary dealers for Jeanneau, CNB, C&C, S&S 30, Cabo Rico, Legacy, and E33 is pleased to announce the recent sale transaction of a CNB 60 yacht to a client who is sailing her across the Atlantic.
The CNB 60 is a semi-custom modern yacht with beautiful flush teak decks, a powerful rig for racing or cruising and a luxurious interior with a large main salon, expansive galley, and several full staterooms. The CNB 60 was designed by the Philippe Briand group and is customized for each client with options that are selected to fit the intended use and client preferences. Easy to sail short-handed, but equipped if requested for high performance racing or cruising.
Glenn Walters, managing partner of Bluenose Yacht Sales, stated, "We are excited and pleased to assist our special client to find the right yacht for his needs as we do with every client regardless if he is purchasing a brokerage boat or a new yacht."
Bluenose Yacht Sales, located in Newport, RI and Portland, Maine serves each client with personal attention to understand preferences, experience, and intended use in order to find the right fit that will deliver years of fun and excitement for family and friends. Call us to discuss how we might add value to your next yacht purchase at 877-695-6538.
# # #