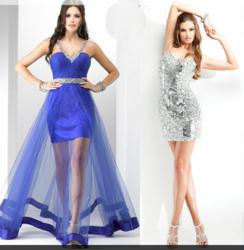 Feathers are not just for accessories, they are a main attraction in many dress styles
Port Jefferson Station, NY (PRWEB) December 30, 2011
Magic Moments claims that one essential style, that never seems to change, is sexy. Short miniskirt dresses are all the rage on the runway this year. Details like fringe, jagged hemlines or hi-low hems are a must. These short styles are usually dressed up with super high platform heels or dressed down with sparkly leggings and thigh high boots. Other popular trends on the runway this coming season are one shoulder styles, mid-section cut outs and corset tops. Nothing says sexy than showing more skin.
Prints are still popular affirms Magic Moments. Animal prints, polka dots, and geometric patterns with brilliant colors allow anyone to show their confident side. Contrast is the key with color fashion this season. If there is no contrast in the dress, add that color contrast with tights, leggings, shoes or accessories.
Fabrics used in dress trends of 2012 range from pretty and elegant to bold and textured. Ribbons, silk, tulle, piped ruffles, and rhinestones are also found in many collections as well as dresses with long sleeves for more coverage. New trends in rhinestones this year are large jagged stones giving a shattered mirror effect. Perfect for the woman who wants to be noticed! Women who want a soft look can choose a Grecian-style dress. This style features flowing chiffon material with an ethereal sheer look. Speaking of sheer, a new style seen on the runway this season is short cocktail dresses with a sheer long skirt. Simply stunning and sexy! Feathers made their appearance last year, and are really showcased this year on all the designer runways. Feathers are not just for accessories, they are a main attraction in many dress styles.
These days with hectic schedules it can be a daunting task to shop for dresses. That is why Magic Moments continuously strives to bring their clients all the up to date fashion trends from the runway. They can be found on Facebook, Twitter, YouTube, and Blogs.
Company Profile
Magic Moments is an authorized retailer of over 50 designers. Jovani, Tony Bowls, Flirt, La Femme, House of Wu, Terani, Mori Lee, and Mac Duggal are just of the few designers they carry that have been seen on the Red Carpet and inside the pages of high-fashion magazines. They have been serving their community on Long Island, in NY for many years and dressing women all over the globe through their online stores and fabulous customer service. Magic Moments offers three online shops for those who like to or need to shop from home. http://www.magicmomentsprom.com , http://www.magicmomentscollections.com and http://www.magicmomentschristening.com.
###