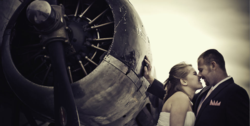 Let us Capture Your Love Story...
Lake Havasu City, Arizona (PRWEB) December 29, 2011
Jeff Janke Photography, is owned and operated by Destination Wedding Photographers, Jeff and Amber Janke of Lake Havasu City, Arizona. Together the talented husband and wife wedding photography team does more than just capture amazing fine-art and photo-journalistic photographs of art, they also write, produce and direct cinematic wedding films, music videos and much more! One of Amber and Jeff's most recent claims to fame, is their combined effort of writing, directing and producing a music video for Universal Records Band; "Hollywood Undead" titled; "Been To Hell" and a music video titled; "Do You Know" by a new, hip, up and coming pop artist; "Nyssa Rae".
Amber Janke quotes; "We are passionate about what we do and we love to build relationships with new couples, as well as take on new, exciting challenges, which seem to always present themselves." We are passionate about love, photography and travel! We love to capture couples love stories in a fun, exciting and unique way.
Jeff Janke Photography is not just a team of husband and wife talented photographers; they are also comprised of a group of talented associate photographers. Together Jeff and Amber Janke formed two different production companies; "AMP Creative" to showcase their music videos, commercials and passion projects, as well as; "Serendipity Films" to showcase their cinematic wedding videos.
Jeff and Amber love to travel to different destinations all over the globe to work with their clients, so if you are in need of a great wedding photography team that will capture your special day in a new and fresh way, check out Jeff Janke Photography.com.
To learn more about these multi-talented individuals and to view samples of their amazing work, please visit; http://www.jeffjankephotography.com
###