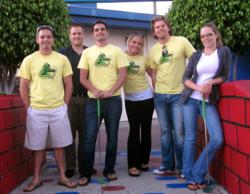 It's a joy to work at TicketKick, I get to help people who desperately need help with their ticket all day long in a great, low pressure working environment
San Diego, CA (PRWEB) December 30, 2011
TicketKick, California's fastest growing legal document assistant helping drivers contest speeding tickets, red light camera tickets, and other common traffic infractions, has recently launched an Employee Appreciation Initiative, to supplement their customer service initiatives already underway.
Their plans include providing health benefits, personal growth classes, personal allowances to decorate each employee's office, family and friends' discount of TicketKick's services, snacks and beverages available for free in the office, and fun employee outings and bonuses when company goals are met throughout the year.
"It's a joy to work at TicketKick, I get to help people who desperately need help with their ticket all day long in a great, low pressure working environment," said Lewis Guess, one of TicketKick's Customer Service Representatives.
To kick off their initiatives, the company recently treated their employees to a steakhouse dinner in downtown San Diego and two Disneyland tickets as a gift to each employee. TicketKick's founder and President, Greg Muender gave a speech, thanking each employee individually for their hard work and dedication to the company and announced his upcoming plans with the Employee Appreciation Initiative.
Muender, recently inspired by the book, "Peak" by Chip Conley, said "Maslow's Hierarchy of Needs can be applied to employees very easily. As the leader of the company, it's my job to ensure that our employees have all levels of their "needs pyramid" met. We've got to lay the proper foundation with wages and benefits. Then, we've got to create a sense of community, somewhere people actually want to do work. Finally, we need to empower our employees to allow them to feel that their work is meaningful and impactful. We are really excited to roll out our new initiative, not only because we can show our appreciation to our amazing existing team, but we can attract new talent to come work at a great place."
TicketKick is confident that by investing in their employees, their bottom line will benefit. They look forward to continuing to add great employees to their team and to continue to grow as a company. Their goal is to help 12,200 people fight traffic violations in 2012.
About TicketKick®
TicketKick is a registered and bonded legal document assistant in California, providing self help services in assisting drivers to beat traffic tickets, using a similar service model to companies such as LegalZoom and E*Trade. TicketKick works with traffic attorneys and law school graduates who work together to complete legal documents in a ministerial manner at the specific direction of the customer with the goal of helping the customer obtain a ticket dismissal. About 70% of TicketKick's customers receive a dismissal of their ticket. TicketKick offers an industry exclusive 100% money back guarantee for customers who may be found guilty after using their services. TicketKick Customer Service Representatives can be reached at (800) 580-1902. For press inquiries, TicketKick's Vice President can be reached at (619) 569-1001.
###