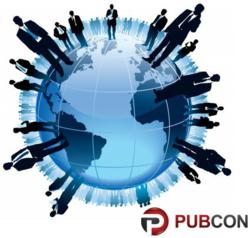 "Pubcon Las Vegas always draws many from the Asia-Pacific region, however with the easy access and strategic location Hawaii provides, we expect even greater numbers of international attendees in Hawaii on February 13 - 15 for Pubcon Paradise 2012."
AUSTIN, TX (PRWEB) December 28, 2011
Pubcon Paradise 2012 will take place in Honolulu, Hawaii on February 13 - 15, providing those in the Asia-Pacific region a convenient opportunity to attend the premier search and social media conference featuring many of the world's leading technology speakers.
Hawaii is conveniently located for both those in North America and the Asia-Pacific region, making Pubcon Paradise 2012 an attractive conference for attendees coming from Japan, Korea, Australia, New Zealand, China and other countries. Flight times from Tokyo or Seoul to Honolulu can be as short as six to eight hours, less than half of the 11-plus hours it can typically take to fly to Pubcon Las Vegas.
Pubcon Paradise 2012 offers Hawaii's state-of-the-art meeting facilities at the Hilton Hawaiian Village Waikiki Beach Resort alongside Waikiki's widest stretch of beach along with lush tropical gardens and waterfalls, along with discount luxury accommodations and Hawaii's astounding natural beauty.
"Pubcon Las Vegas always draws many from the Asia-Pacific region, however with the easy access and strategic location Hawaii provides, we expect even greater numbers of international attendees in Hawaii on February 13 - 15 for Pubcon Paradise 2012," said PubCon and WebmasterWorld founder and chief executive Brett Tabke.
UnMarketing president and noted Internet marketing personality Scott Stratten and Travelocity founder, e-commerce pioneer and Kayak.com chairman Terry Jones will present keynote addresses during Pubcon Paradise 2012.
More than 50 of the world's top optimization and new media marketing speakers will be presenting sessions during Pubcon Paradise 2012. Many of the speakers who will present sessions in Hawaii consider Pubcon to be their favorite event, and their enthusiasm for Pubcon Paradise 2012 will be apparent as attendees will be treated to research and education that just won't be shared at any other conference but Pubcon.
Take advantage of the convenient location and attend Pubcon Paradise 2012 in sunny Honolulu, Hawaii, which will take place February 14 - 15, with a full day of Pubcon Masters Group search and social media training on February 13, at the stunning Hilton Hawaiian Village Waikiki Beach Resort.
Early-bird pre-conference registration at some of the fairest prices in the industry is still available.
Join both veteran Pubcon conference-goers and first-time attendees at Pubcon Paradise 2012, with more folks from the Asia-Pacific region than ever before.
Learn more and register at http://www.pubcon.com.
About PubCon
PubCon is a multi-track educational conference hosted by WebmasterWorld. PubCon, supported by the industry's leading businesses, speakers, exhibitors, and sponsors involved in social media, Internet marketing, search engines, and online advertising, offers an in-depth look at the future of technology presented by the world's top speakers in provocative cutting-edge sessions.
For more information about the conference, contact Brett Tabke at 512-231-8107 or brett(at)webmasterworld(dot)com.
In the U.K., contact Neil Marshall at 512-231-8107 ext 106 or engine at webmasterworld.com
For more details about sponsorship and exhibition opportunities, contact Strategic Marketing Director Joseph Morin at 512-231-8107 ext 104 or joe(at)pubcon(dot)com.
###