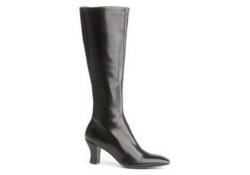 Chicago, IL (PRWEB) December 30, 2011
Their beauty is undeniable, and today, Thierry Rabotin shoes and boots can finally become part of the lives of their greatest admirers, as Hanig's Footwear has placed some of the most elegant and feminine examples from Thierry Rabotin on sale. Find 20-40% off select models of Thierry Rabotin shoes and boots online today via their Semi-Annual Sale.
This, of course, is no small measure in the world of women's fashion, as Thierry Rabotin's are not just any shoe but instead a byword for effortless and timeless elegance. The Cara line of boots, for example, is never considered just another part of a lady's wardrobe. With a leather-covered, sculpted heel, carefully hidden inside zipper, and body made of the finest black nappa leather Italy can produce, this decidedly up-market boot can be owned by every woman who has ever dreamed of owning striking footwear.
The Cara, however, is not the only amazing value Hanig's Footwear has in store for its customers this winter season. Nor is it even the only luxurious Thierry Rabotin boot that can be purchased at prices that may never be seen again. The Elle, a black suede piece that offers every woman who wears it a high degree of comfort due to the way its fabric embraces legs of any size without seeming to stretch, is also a highly desired boot that's on sale for a limited time. Another suede boot, Thierry Rabotin's Tess, is a part of this special offer as well, however its covered wedge heel and crinkle patent give it an aesthetic that is both unique and capable of making any woman who wears it stand out from the crowd.
All of Thierry Rabotin's shoes start off with an advantage in lightness, comfort, and craftsmanship that no other designer pieces can match. This advantage is only enhanced by the high European styling that is used to turn each of their products into the very archetypes of what a beautiful shoe, boot, or sandal should look like. As this gorgeous styling is enhanced by the special nature of their construction, all of Thierry Rabotin's wearers feel as if they are walking in bare feet that, somehow, have been elevated above what nature itself could provide.
Hanig's 20-40% Off Semi-Annual Sale is only for a limited time so act fast. Thierry Rabotin isn't the only sale item available as you'll find such brands as Dansko, Ecco, Hunter, La Canadienne, Sorel, Ugg and many others. Visit hanigs.com or one of their many Chicago based stores to find out more.
###