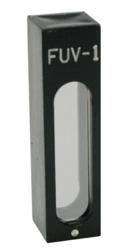 Farmingdle, NY (PRWEB) December 28, 2011
Through forward-thinking technology NSG Precision Cells is proud to offer a dual stray light photometric calibration filter. It is the only company that produces filters that can be utilized to verify stray light performance of spectrophotometers in the VIS and UV range.
With advanced expertise, NSG Precision Cells delivers a stray light verification neutral density (ND) filter that is combined with solid state nano-deposition. This exceptional stray light filter replaces numerous liquid-based stray light verification filters that are generally used to test the stray light verification of a single spectrophotometer.
Typically liquid filters test the stray light performance of spectrophotometers in 2 to 3 areas of the VIS range and in 3 areas of the UV range. Likewise, for every range a distinct kit of liquid filters is needed to ensure accuracy and clarity of testing. Depending on the spectrophotometer, it is not unusual to use 5 to 6 liquid stray light filter kits to verify stray light performance. Furthermore, each kit can cost a laboratory around $1000 or more and are normally purchased and calibrated in either the VIS or UV, never both.
NSG Precision Cells presents the dual stray light filter that verifies the stray light performance of a spectrophotometer in both the UV and VIS range. This unique stray light filter replaces at least 12 liquid-based stray light filters that can ultimately save thousands of dollars in purchasing as well as recalibrating. Furthermore, since only one stray light filter is needed it saves businesses an incredible amount of time on repeated verification when testing the stray light performance of spectrophotometers.
The photometric calibration filter definitely meets the needs of today's laboratory scientists with solid yet precise equipment that is easy to use. Some of the numerous benefits of NSG Precision Cells stray light filter features the following specs, optical density of 0.5, exceeds UV and VIS calibration standards, meets or exceeds NIST-930e requirements, never needs to be recalibrated if used correctly, the dual purpose stray light filter is extremely precise and consistent, researchers can save over $3,000 on filters per spectrophotometer testing, the combined stray light/wideband neutral density filter is NIST compatible, can be used to test neutral density in the UV and VIS range from 200-700 nm, has a standard size of 12.5 x 12.5 x 45 mm that can be used in any spectrophotometer
Moreover, since the dual stray light calibration filter is of solid state quality it maintains its performance for numerous years compared to liquid filters that need replaced every 1 to 3 years. In addition, NSG Precision Cells dual stray light calibration filter is an advanced technology that has removed purported "Expanded Uncertainty" by utilizing a composite medium. The irreplaceable composite medium allows solid state density filters to verify not only NIST wavelengths but any wavelength within an optical wavelength range of processes of the dual filter.
NSG's high-tech advancement combines both nano-embedded and nano-deposition technology that overcomes past non-linearity across the surface of a filter and surpasses the lifespan of liquid filters. Not only is the NSG dual stray light photometric calibration filter ideal for stray light verification of spectrophotometers but it is cost effective.
###