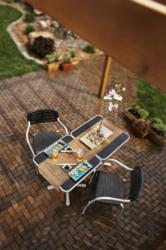 Contractors can now extend beyond the AZEK Deck and into the hardscape portion of a job.
Scranton PA (PRWEB) December 30, 2011
AZEK Building Products keeps the momentum going at the 2012 International Builders Show in Orlando, FL, Feb 8 – 11, 2012, with new design options for exceptional outdoor living areas. To create even more excitement at the AZEK Booth (W3601), Tom Silva, one of the stars of This Old House, will be available on Thursday, Feb. 9, from 11:00 a.m. to 12:00 noon to meet fans, answer questions and sign autographed photos.
While at the booth, check out new outdoor lighting options that will keep the AZEK Deck party going into the night! From the AZEK® Rail product line, AZEK Lighted Post Caps include the Villa™ Cap, available in White and Black, and the Island Cap, available in White, Black, Brownstone and Kona® (a rich, dark brown shade). Both caps include multiple LEDs to provide ambient lighting, fit all AZEK 5X5 Rail Post sleeves, and complement existing post caps. The Villa Cap includes frosted lenses on all sides to provide greater visual aesthetics.
And, for an even more dramatic effect, new AZEK Under Top Rail Lighting can be used in conjunction with the AZEK Lighted Post Caps as a sleek lighting option that tucks neatly under the top rail. It is designed to work with AZEK Premier and Trademark Railings with a patent pending lighting system that requires no extra fasteners and is virtually hidden from view. Available in kits to fit six and eight ft. rail sections, AZEK Under Top Rail Lighting provides continuous down lighting without visually distracting hot spots.
The AZEK Rail Lighting products are powered by 12 Volt DC power. AZEK Power Packs, with either a 35Watt or 200Watt transformer, are sold separately and contain all the components needed to easily install the new lighting products.
In addition, contractors can extend their offerings beyond the AZEK Deck with AZEK VAST® Pavers (http://www.vastpavers.com) offered through AZEK's distribution channel as part of a strategic alliance. Contractors can now venture into the hardscape portion of a project with pavers that install three times faster than traditional pavers, using an innovative grid system. AZEK VAST Pavers are perfect for patios, walkways, driveways, pool areas, rooftops, and decks for either residential or commercial applications.
In five appealing colors, they are lightweight and stain, impact and scratch resistant. The pavers can be cut using a regular miter or jigsaw – never any need for a masonry wet saw – adding up to greatly reduced time and labor.
Manufactured with up to 95 percent post-consumer content, AZEK VAST Pavers are a true green building solution. They're great for LEED® certification projects and have a lifetime no-crack residential guarantee.
Check out these products and many more innovative products at AZEK Building Products Booth #W3601 at the International Builders Show or visit http://www.azek.com.
LEED® (Leadership in Energy and Environmental Design) is a registered trademark of the U.S. Green Building Council.
About AZEK Building Products:
With more than 25 years of cellular pvc manufacturing experience, AZEK Building Products makes and markets premium, low maintenance exterior building products under the AZEK brand such as AZEK Deck, the leading brand of low-maintenance decking, and AZEK Trim, the leading brand of low-maintenance trim. Other AZEK products include AZEK Mouldings, AZEK Porch, and AZEK Rail. All of these products offer tangible benefits as an ideal wood replacement product for a myriad of outdoor uses. In a strategic alliance, AZEK VAST Pavers are now available through the AZEK distribution channel and feature fast, easy installation and many green benefits. For more information about AZEK Building Products, call 1-877-ASK-AZEK (275-2935) or visit the AZEK website at http://www.azek.com. For more information on AZEK VAST Pavers visit http://www.vastpavers.com.
###