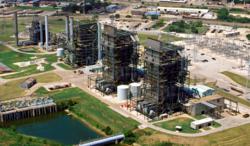 Houston, TX (PRWEB) December 29, 2011
With the EPA's new Cross State Air Pollution Rule (CSAPR) going into effect in less than a week, power plants across the southwest are scrambling to ensure that they comply with new federal regulations. On Dec. 26, Houston-based consulting firm ACS Engineering Group announced that it will add comprehensive emissions monitoring and tracking to its popular MATRICS compliance management program. The CSAPR law, which goes into effect Jan. 1, 2012, requires emissions regulated entities in 28 states to significantly reduce emissions that contribute to ozone and fine particle pollution in neighboring states.
"This new law is going to have a tremendous impact on plants here in Texas," Greg Haunschild, President of ACS Engineering Group said. "They are going to face a lot of challenges in the coming months and we want to make sure that understanding and tracking requirements isn't one of them."
In addition to offering web-based compliance task tracking and regulatory email alerts, the MATRICS program also customizes its continuous compliance monitoring system for each participating entity. The system ensures the plants are up to date with all federal regulations and that they are alerted before any compliance issues arise.
"By offering this enhancement to our proven compliance tracking system we hope to provide these plants with the type of support they need," Haunschild said. "From help with permit registration to emissions monitoring, we have resources to help our customers succeed."
To find out more about the the Cross State Air Pollution Rule and other environmental regulations, firms can visit the EPA on the web or call 202-564-7076. For information about emissions monitoring or compliance assistance through ACS Engineering Group, plants can visit acsengineering.com or call toll free at 1-800-634-3947.
# # #