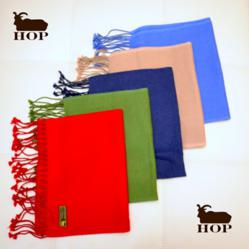 Pamper Yourself In Style
Greater New York Area, NY (PRWEB) December 30, 2011
HOP Cashmere, the premier Cashmere Scarves and Pashmina company, today announces the availability of 5 new colors in its Men's Scarves collection. This is in addition to the Plaid Design Scarves that were launched last month. These solid color scarves are available in Red, Navy, Khaki, Army Green and Royal Blue and measure 12 inch wide by 68 inch long with twisted tassels of 4 inches on each short side. Each scarf is hand made on looms with 4.5 ounces of the finest Grade A Cashmere in a unique pill resistant technique which even with daily use poses almost no pilling problems.
"We worked with our weavers to improve the cashmere weaving technique that allows us to reduce the pilling problem that is commonly found in most woolen fabrics. With this special weaving technique, we tested the scarves and were able to reduce the pilling significantly even when the scarf is subjected to daily use. Its our commitment to customers that we will continuously find ways to innovate and enhance our product lines and keep pampering them in style" - says Anu Chandwani, the president of Home Of Pashmina and owner of HOP Cashmere Brand.
Each 100% cashmere scarf comes with a HOP Brand logo that stands for purity and quality of Cashmere and integrity of service expected from HOP Cashmere. The new variety of solid color scarves will be available immediately on the Home Of Pashmina website and also made available to the retailers that source HOP branded cashmere scarves from Home Of Pashmina.
Home Of Pashmina and HOP Cashmere brand continues to grow in popularity and variety and will soon be launching more varieties of Designer Pashminas in association with some design houses based in New York and India. Stay tuned for more such announcements in 2012 and meanwhile - "Pamper Yourself In Style".
About Home Of Pashmina
HOP Cashmere is a New York area based Cashmere Pashmina Design/Import House with online presence as Home Of Pashmina and its products available at boutiques in Tri-State area. Anu C – President of Home Of Pashmina has many years of experience as merchandiser in a apparel manufacture and export company and is a Pashmina Enthusiast. Anu has also appeared in New York Area magazines as a upcoming women entrepreneur and Pashmina lover.
For more information about Home Of Pashmina or to order a press kit, please contact:
Anu Chandwani
Telephone: 800-757-2297
Email: ac(at)homeofpashmina(dot)com
Online: http://www.homeofpashmina.com
###