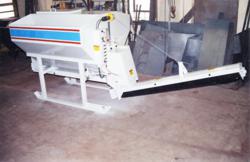 produce concrete at the push of a button
(PRWEB) December 29, 2011
Both new and existing precast concrete companies looking for ways to save money and increase production can now benefit by building their own 3 cubic yard diy concrete mixer. Gizmoplans.com has released its complete plans to build a volumetric concrete mixer which enables precast concrete businesses to produce as little or as much concrete as they want by a push of a button. When ordering concrete from a redi mix plant businesses are at the mercy of drivers schedules and redi mix order minimums. The 3 cubic yard mixer gives concrete businesses the ability to save money and time by producing their own concrete on demand. The volumetric concrete mixer design also allows them to reduce their material costs which helps increase their bottom line on concrete projects. The 3 cubic yard concrete mixer can be built at a fraction of the cost to buying a new one. Once complete it is a commercial unit giving them years of service. With the complete fabrication plans offered by gizmoplans, precast concrete companies can either purchase and build it themselves or have it built by a local manufacturer. The diy concrete mixer plans are very beneficial for small precast businesses, new concrete business start ups and other precast concrete construction companies looking to save money on their raw goods. Businesses that are not able or do not have the capacity to build the cement mixer themselves can still save money and help their local economy by sourcing out the fabrication work to local fabrication companies.
The diy concrete mixer can produce up to 12 cubic yards of concrete per hour. The bag mix ratio is completely adjustable and can mix concrete from a low slump to a high slump mixture. The volumetric mixer is built with 3 separate bins, gravel and sand bins on each side with the center bin holding the cement. Bottom feed chains pull the material out to the mixing auger. Water is introduced at the base of the mixing auger which then moves the material up and out the discharge end. The design has no conveyor belts to wear out. The electric cement mixer is also easy to clean after shutting off the feed chains the auger can be started up and simply washed out with a hose. The plans are complete shop drawings showing how to build a 3 cubic yard electric cement mixer which is able to produce concrete at the push of a button. The machine can be run by one person reducing overall man hours used to complete a job.
ABOUT US
Gizmoplans is a online informational website where businesses and individuals can download and build products from plans related to the precast concrete industry, recycling industry, wood crafts, metal fabrication, hobbies and much more. Businesses and individuals can also upload and sell their plans, patterns, how to e-books and more benefiting both the purchaser and seller in the diy community.
###