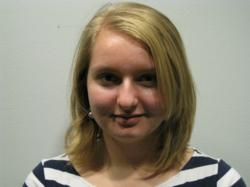 "We're very pleased that Krystyna won the top alumni scholarship," says Mark Lucas, P.E., leader of AECOM's transportation business in its U.S. Midwest Region. "She is an incredible individual and a valued member of our team."
Chicago, IL (PRWEB) December 29, 2011
Krystyna Bobak, an intern in AECOM's Chicago office, is the winner of the Architecture, Construction and Engineering (ACE) Mentor Program of America's Chicago Chapter 2011 Alumni Scholarship. Worth US$2,000, Bobak will apply the scholarship money toward her tuition expenses at the University of Illinois at Chicago, where she is pursuing a bachelor's degree in civil engineering.
As part of a partnership between AECOM and the ACE Mentor program, Bobak joined the firm as an intern while attending high school in 2009. Since then, she has worked on numerous transportation projects including total bridge reconstruction, grade separation, bike path construction, roadway and bridge widening and sound wall erection. She hopes to join AECOM as a full-time employee after achieving her bachelor's degree in civil engineering. Bobak is a member of the Phi Theta Kappa Honor Society and the American Society of Civil Engineers. In her free time, she translates documents written in Polish and Spanish for the Kennedy High School Parent Teacher Association; plays volleyball on the Player Sports Group Adult League; and mentors local high school students about college possibilities and scholarship opportunities.
"We're very pleased that Krystyna won the top alumni scholarship," says Mark Lucas, P.E., leader of AECOM's transportation business in its U.S. Midwest Region. "She is an incredible individual and a valued member of our team."
This is the third annual scholarship offered by the ACE Mentor Program of America's Chicago Chapter as a means of continued support of ACE students through college for continuing education. The criteria for winning include outstanding academic performance, compelling personal character and demonstration of leadership within scholastic and extracurricular activities.
About AECOM
AECOM is a global provider of professional technical and management support services to a broad range of markets, including transportation, facilities, environmental, energy, water and government. With approximately 45,000 employees around the world, AECOM is a leader in all of the key markets that it serves. AECOM provides a blend of global reach, local knowledge, innovation and technical excellence in delivering solutions that create, enhance and sustain the world's built, natural, and social environments. A Fortune 500 company, AECOM serves clients in approximately 125 countries and had revenue of $8.0 billion during its fiscal year 2011. More information on AECOM and its services can be found at http://www.aecom.com.
###