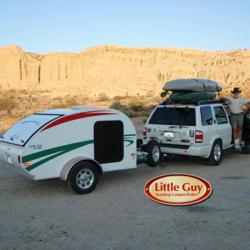 Massillon, Ohio (PRWEB) December 28, 2011
Little Guy Worldwide has, by any measure, achieved search engine domination of its industry on its ascent as the world's leading distributor of teardrop camping trailers. The company has leveraged the web to raise awareness of the teardrop trailer product category, establish new dealers, service existing dealers, and engage current and prospective customers.
Only four years ago, though, the future looked uncertain for Little Guy Worldwide owners Joe and Christine Kicos. In 2007 then minority owners Joe and Christine Kicos arranged the purchase of the company from its majority owner who was looking to exit the business. At the time going to the bank for financing during such uncertainty simply wasn't an option. "We learned to leverage the web and to get the word out organically," says company owner and president Joe Kicos. "We didn't have a lot of options when it came to spending money on marketing."
The company's motto "Some Things Just Make Sense" seems to appeal to a growing segment of independent minded and self-reliant consumers. "There really is no 'selling' a Little Guy," says Chief Operating Officer Chris Baum. "When you first look at it, it either makes sense, or it doesn't. The challenge is to get the product in front of prospective customers so that they can make that assessment on their own. What is more sensible than using the Internet to feed the research and decision making appetite of these independent minded consumers?"
Little Guy Worldwide has managed to gain exposure on the Price is Right and Let's Make a Deal television game shows as well as through organic web searches by consumers searching for lightweight, economical recreational vehicles. The company claims that a teardrop trailer typically has a negligible impact on fuel consumption, which has appealed to consumers who are looking for ways to save money or simply conserve natural resources. "These consumers are often resistant to over-the-top marketing campaigns. They want to be presented with options and to decide for themselves," says marketing consultant and SEO expert Matt Williams, who turned the company on to the benefits of leveraging organic search back in 2007.
Little Guy's website http://www.golittleguy.com now receives in excess of 1,000 unique visits per day from around the world, and it has received as many as 16,000 visits in a single day. According to Williams, "The beauty of organic search is that it's like an annuity. You make the upfront investment, and it keeps paying out over time."
###