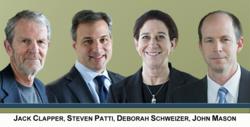 (PRWEB) December 30, 2011
If you or a loved one has been diagnosed with mesothelioma, the asbestos law firm of Clapper Patti Schweizer & Mason (CPSM) is offering free case evaluations as well as an up-to-date brochure on everything you need to know about choosing a law firm, filing a mesothelioma lawsuit or bankruptcy claim, and mesothelioma treatment options. Having represented clients for more than 3 decades, CPSM are experts in their field and have a long history of helping those who have been injured by asbestos.
CPSM knows firsthand how difficult and overwhelming it is when a loved one is given a diagnosis of mesothelioma. They also understand and support clients' needs to focus on treatment and medical concerns first and foremost. They are committed to helping anyone injured by asbestos to get the best treatment and the best legal representation in the least stressful way.
Part of CPSM's core commitment to helping those diagnosed with this terminal illness is having an attorney available to talk personally with patients or close family members of patients regarding all aspects of filing a lawsuit or claim. CPSM attorneys travel to patients, free of cost, to make the process as easy and stress-free as possible and so that families can concentrate on medical needs first.
CPSM recently published a brochure and booklet that answers all the vital questions regarding what mesothelioma is, different types of mesothelioma, what to do when diagnosed, and steps to take for filing a lawsuit or asbestos bankruptcy claim. The brochure also includes a special section for veterans diagnosed with mesothelioma, as they have an even higher risk of asbestos cancer given their high occupational exposure during service.
Jack Clapper, founder of CPSM and one of the first attorneys to open a law firm specializing in mesothelioma lawsuits, is a veteran himself, and especially dedicated to helping those who served our country. Clapper and his partners understand that getting immediate answers after being told you or a loved one has terminal cancer takes priority over all else. Having practiced in the field for over thirty years, they can answer any question you have or direct you to someone who does.
Contact CPSM, one of the most successful and reputable mesothelioma law firms in the nation, if you or a family member has mesothelioma and you want to know what your legal rights are. CPSM offers free case evaluations and will immediately send out their new brochure Mesothelioma: Everything You Need to Know.
About Clapper Patti Schweizer & Mason:
CPSM is one of the only law firms in the nation that exclusively handles mesothelioma lawsuits and asbestos bankruptcy claims. This year somewhere between 2500 to 3000 people in the United States, many of them Veterans and retired military personnel, will develop mesothelioma, a terminal cancer due to exposure to asbestos. CPSM's sole mission is to provide the highest quality legal representation to those injured by asbestos and to obtain significant financial awards and settlements for their clients. Visit CPSM's website to read stories from other clients and to access the most up-to-date information regarding asbestos and mesothelioma.
###