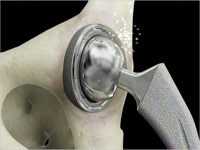 ...I have received a high volume of complaints from potential clients who are devastated because their metal-on-metal implant only lasted several years when they are supposed to last approximately 15 years
(PRWEB) December 29, 2011
Medical and legal experts estimate that failed metal-on-metal hip implants may cost taxpayers, insurers, employers and others billions of dollars, contributing to the soaring cost of healthcare according to a recent New York Times article. The drastically high rate of all-metal hip implant revisions is now the most widespread medical implant failure in decades. 'This is not new information to me because for quite some time now, I have received a high volume of complaints from potential clients who are devastated because their metal-on-metal implant only lasted several years when they are supposed to last approximately 15 years," reports attorney David Ennis of Ennis & Ennis, P.A.
The primary culprit of the hip failure is metal wear. The wear of metal parts against each other generates debris that is damaging tissue and, in some cases, crippling patients.
All-metal implants accounted for nearly one-third of the estimated 250,000 hip replacements performed each year in the United States, according to an August 2011 New York Times article. According to one estimate, some 500,000 patients have already received an all-metal replacement hip.
Manufacturers of metal-on-metal hips include DePuy Orthopaedics, Stryker, Zimmer, Biomet and Wright Medical Technology. So the financial fallout is expected to be usually large and complex because the issues involve a class of products, not a single device or just one company.
In September 2011, the U.S. Food and Drug Administration (FDA) received more than 5,000 adverse events reports in the first six months of 2011 regarding all-metal hips, which was more than the agency had received in the prior four years combined. Then a study in England revealed that all-metal hips were failing at nearly three times the rate of hips made from metal-and-plastic components, which can last 15 years or more.
The United States does not have a formal tracking system for the outcome of orthopedic procedures. However based upon a National Joint Registry for England and Wales, which reports an ever-increasing metal-on-metal failure rate, it is anticipated that additional tens of thousand of patients in the US will have to undergo revision surgery, according to Dr. Art Sedrakyan, a researcher at Weill Cornell Medical College of Cornell University.
"Even when I was involved with the Sulzer Orthopedics settlement about 10 years ago, the number of affected patients was not nearly as high as it is now with all of the metal-on-metal hip claims," commented Ennis. "This is just a travesty for thousands of patients."
Ennis & Ennis, P.A. recommends that anyone with a metal-on-metal hip implant system, who is experiencing pain in the groin, hip or leg, swelling at or near the hip joint, or a limp/change in walking ability, first seek medical attention. Then file an adverse event report with the FDA at https://www.accessdata.fda.gov/scripts/medwatch/medwatch-online.htm. Lastly, consult with an experienced attorney.
Ennis & Ennis is offering free, nationwide, confidential consultations to anyone who has a metal-on-metal hip replacement system by calling toll free 1-800-856-6405 or by going to http://www.ennislaw.com and completing an online case evaluation form.
Ennis & Ennis, P.A. is a nationwide law firm with offices in Ft. Lauderdale, Miami and Washington D.C. that concentrates its practice in mass torts and represents individuals against pharmaceutical companies and medical device makers.
Ennis & Ennis, P.A. has been representing clients individually since 1986 and has recovered over $100 million in settlements for its clients.
Ennis & Ennis, P.A. is also investigating cases involving, Accutane, Actos, Avandia, Fosamax, Paxil, Zoloft, Prozac, Depuy Hip Recall, Zimmer Hip Recall, Wright Conserve Hips, Wright Profemur Hips, Depakote, Reglan, SJS/Dilantin, Yaz, Yasmin and Ocella Birth Control Pills.
Remember the law limits the time in which a claim can be filed, so don't wait to explore your legal rights. Call today toll free 1-800-856-6405 or visit http://www.ennislaw.com.
###