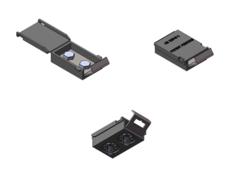 Aquatherm believes it has developed the best of both worlds in stainless and polymer installation hardware.
Lakewood, NJ (PRWEB) December 28, 2011
The largest U.S. manufacturer of solar heating systems for swimming pools is proud to introduce its new, patent-pending mounting installation hardware, dubbed "The Eagle Claw Mounting System." Already known as "the most trusted name in solar pool heating," Aquatherm Industries continues its 35-year history of quality and excellence through innovation with the Eagle Claw™ hardware.
Three decades ago Aquatherm differentiated itself from competitors by opting to include heavy-duty marine-grade stainless-steel mounting hardware with its systems, rather than using cheaper plastic components like other manufacturers. Built to last a lifetime, the manufacturer's stainless steel brackets and polypropylene-coated strap are designed to resist corrosion and ensure years of worry-free performance.
"In the home, competitive salesmen sometimes claim their plastic hardware is designed to cover the mounting screw and sealant," says Aquatherm Sales & Marketing Manager, Molly Friar. "Even though the perception is far from reality, it is our role as the manufacturer to help our Dealers overcome any objections they might face during a potential sale."
But, major advances in polymer technology over the past 35 years have led to what Aquatherm believes is the best of both worlds in stainless and polymer solar pool heater installation hardware.
As part of the Eagle Claw™ Series of mounting brackets and clamps, Aquatherm is introducing a brand-new, patent-pending "Snap-Cover." These polypropylene covers combine the strength of stainless steel mounting hardware with the aesthetic appeal of "blacked-out" hardware, and provide for the protection of sealant from weather and sun when snapped shut.
The new Snap-Covers integrate directly with Aquatherm's current stainless-steel and aluminum outlet header brackets (part #10008 and #11017, respectively), as well as the standard strap bracket (part #50006), and will be available through any Aquatherm Regional Distribution Center in early 2012.
###