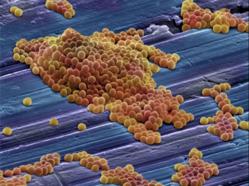 Surfaces that are at least 60 per cent copper can prevent the spread of infections such as MRSA, influenza, E. coli and salmonella
(PRWEB UK) 29 December 2011
Health Trusts across the UK are facing a difficult decision. Door Handles LTD has learnt that evidence from the Infectious Diseases Society of America shows that copper door handles and work surfaces could dramatically reduce the spread of deadly infections. However, at a time when budgets are being cut and money is in short supply, choosing copper over the less expensive alternative of stainless steel is not as straight forward as it may appear.
Owing to the anti-bacterial, anti-viral and anti-fungal properties of copper, door handles and work surfaces that are at least 60 per cent copper can prevent the spread of infections such as MRSA, influenza, E. coli and salmonella. According to research conducted in the US, as reported by the BBC, changing from stainless steel to copper fittings could reduce the spread of infections by 40 per cent.
Some institutions in England have already switched to copper, such as Trafford General Hospital, which has been MRSA-free for the last two years.
Door handles are also being targeted in other health centres across the UK. According to the website for Scarborough and North East Yorkshire Healthcare Trust, Bridlington and Scarborough Hospitals have introduced a pilot scheme of 'infection-busting door handles'. The new door handles can be found in the hospital toilets that are available to the public and on a couple of the wards. The mechanism works by employing an automatic sleeve dispenser which covers the door handle in a protective film each time it is used.
According to Andrew Bennett, Head of Estates and Capital Services: "This is another initiative which demonstrates that the Trust is serious about infection control. Simple actions can have an impact on infection control but also on how our patients and visitors feel about the Trust and the hospital."
As the UK prepares for another cold winter, such measures will be welcomed by health professionals and members of the public alike as they try to avoid contracting seasonal flu and colds.
###