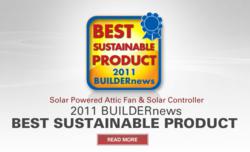 US Sunlight is committed to producing energy-saving products that are affordable, highly effective and pay for themselves.
Incline Village, NV (PRWEB) December 30, 2011
BUILDERnews
BUILDERnews, a fifteen year old monthly publication has a distribution of over 80,000 readers, targeting building industry professionals. Active attic ventilation is acknowledged for its tremendous benefits to the health of the home. Solar attic ventilation provides numerous benefits, venting the attic space while the sun is out with free energy. However, traditional solar ventilation is limited to the hours of available sunlight and is unable to continue operation into the evening hours or on cloudy days when many attics are still suffering from residual heat and/or excessive moisture. Fans powered strictly by house power are able to provide 24 hour ventilation, but only at a hefty price tag, frequently upwards of $30 per month.
BUILDERnews recognizes the significance of a new smart device like the Solar Controller from U.S. Sunlight Corp working with the Solar Attic Fan. Finally a solution is offered to provide homeowners the option to utilize free solar energy for attic ventilation while also reaping the benefits of after-dark electric ventilation without the high energy cost. The Solar Controller utilizes limited house power for pennies per day.
President Robert Buckley remarks, "We are extremely excited with all the recognition we have received in 2011. Both awards ("Best in Show" and "Best Sustainable Product") validate our position as the industry leader in product and innovation. US Sunlight is committed to producing energy-saving products that are affordable, highly effective and pay for themselves. With the current 30% federal tax credit available through 2016, US Sunlight solar attic fans can pay for themselves in as little as 15 months. We believe that every home in America can now benefit from adding proper ventilation and with our extensive library of installation videos and instructions we have made it even easier for the do-it-yourselfer. We can also provide a recommendation from our network of certified installers if you would like our product professional installed."
U.S. Sunlight's Solar Attic Fan and Solar Controller are sustainable products due to their solar powered nature and the benefits they provide to enhance a home's overall sustainability and helps homeowners reduce their carbon footprint. U.S. Sunlight's solar attic ventilation products have been tested and verified to improve a home's energy efficiency and to extend roof life. BUILDERnews recognizes the significant positive effects of U.S. Sunlight's Solar Attic Fan and Solar Controller and declared it is the "Best Sustainable Product of 2011."
"Sustainable :: 1st
U.S. Sunlight Corporation Solar Controller/Solar Attic Fans
U.S. Sunlight Corporation's Solar Controller intelligently controls the solar fan operation and allows homeowners to monitor attic temperature and humidity.
http://www.ussunlight.com"
For more information on the Solar Controller and Solar Attic Fans, visit U.S. Sunlight Corp at the International Builders' Show in Orlando, Florida February 8-11 at Booth #W370.
Best of Show
U.S. Sunlight Corp strives to provide "Alternative Energy for Everyday Life," by designing and manufacturing innovative solar and green products to save money for the homeowner. Introduced in January of 2011, the Solar Controller has taken the home improvement industry by storm, receiving laudable praise from homeowners and industry experts alike. Homeowners now have the ability to add these additional benefits to their U.S. Sunlight attic ventilation products:

An option to utilize house electricity along with solar power, enabling the attic fan to run after sunset or when solar power is not available.
Monitoring attic fan's operating status, attic temperature and attic humidity from the Solar Controller remote's LED screen, simply by pressing a single button on the remote.
With over 100,000 products in the 2011 National Hardware Show, our Solar Attic Fan and Solar Controller caught the attention of retailers, media, and trade professionals, and won one of the Best of Show awards.
About U.S. Sunlight Corporation
U.S. Sunlight Corporation designs and manufactures cutting edge solar products. For more details, visit us at http://www.ussunlight.com or follow us on Facebook and Twitter.
###