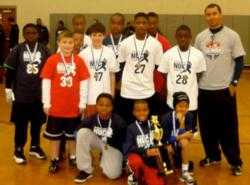 These camps will give youth athletes the opportunity to showcase their skills, learn their football craft and become a better football player." Coach David Schuman
Mahwah, NJ (PRWEB) December 29, 2011
The National Underclassmen Combine has announced at its nationalunderclassmen.com site that it will have youth mini football camps in 2012. This position skill & mini camp training is designed to teach the important basic skill sets for each position that you may play. It is a 3 hour position camp, non-contact on high intensity position skills designed to give you the athletic and position skills in order for the youth athletes to develop their skills for the football field and train them on football, competing, and athletic testing components. It includes Skills, Testing, and Learning in these areas: Change of Direction Skills, 40 yard Dash, Catching, Throwing, Blocking, Tackling basics, Football Awareness, Explosion and Jumping, Football Drills, Combine Testing and much more.
It is taught by exact same coaches that operate the NUC Combines, Ultimate 100 Camp and All World Games. You are getting ex-pros, collegiate stars, and top HS & former college coaches teaching your athlete the skills needed to compete and get better in Mini-Camp & Combine setting.
Several Important Items that make this unique:
1. Hard hitting drills and techniques that are basic to help improve the player
2. Taught by the NUC staff which is known as the elite in combines and camp development
3. Opportunity to compete and learn among other highly driven youth athletes
"The youth mini camps will give football players the opportunity to develop their skills, get exposed to the combines, and become a better fundamental football player." say coach David Schuman, President and founder of the NationalUnderclassmen.com events.
About National Underclassmen Combines
The National Underclassmen Showcase for Football was founded by the originators of the National Underclassmen Football Combines. Over the past five years, the NUC has led more than 3,000 athletes to division 1, 1aa, and DII scholarships scholarship offers while thousands more have gone on to play college ball. The company has taken the principle of the football showcase and is now applying it to lacrosse, bringing in the best football coaches and athletes to run the showcase, combined with the NUC's timing staff to bring the first true testing and showcase for Lax with the sole aim to get the athletes recruited for college. All events are video taped and the results will be sent to every college in the U.S. To see what NUC's done in the past, visit http://www.nationalunderclassmen.com. The company is proud to expand its program to more than 60 cities and more than 180 events throughout the U.S. Many top players have come through the National Underclassmen Combine including Baltimore Ravens QB Tyrod Taylor and Cleveland Browns DB Joe Haden. Many current top stars in college first came through the NUC including Marcus Lattimore of South Carolina, Robert Woods of USC, Aaron Murray of Georgia, Tyler Bray of Tennessee, Jelani Jenkins of Florida, Mason Walters and Dom Espinosa of Texas and many many more.
For high school football athletes who are diamonds in the rough or who play for small schools, or elite athletes looking to be seen as early as possible, Schuman's provides a forum and showcase for those athletes to expose their talents. It is their job to get that information out to college football recruiting teams nationwide. Visit http://www.nationalunderclassmen.com to find out more information.
# # #