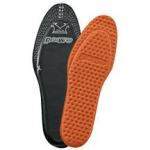 "They work very well in minus 45-degree weather, great find."
(PRWEB) December 30, 2011
These new, non-electric space age insulated Weber Foot Warmer Insoles are a "spin-off" product NASA originally designed for use in space. This high tech ultra thin insulation material, used by astronauts, is now available as foot warmer insoles for use by people on earth. Weber introduces the new Toasty Feet ultra thin insoles (less than 1/4-inch thick) shoe and boot liners. They can keep wearer's feet at a constant temperature of approximately 72 degrees (F) in all kinds of weather, hot or cold. Available now for Immediate shipment from Toms River, NJ are trim-able sizes for both men and women.
Originals By Weber, Terry L. Weber, owner, of Toms River, NJ, announces immediate availability of the Weber Toasty Feet non-electric foot warmers for use as thermal barriers insoles in all shoes and boots. This is a NASA developed (spin-off) highly efficient insulation material originally used by astronauts in boots and space suits to give comfort, warmth and protection during space walks and flights.
The high-tech insulating material (Aerogel) is now available for general public use as an insole liner in shoes and boots. Designed to maintain feet at the most comfortable temperature at any season of the year.
These Weber Toasty Feet foot warmer insoles solve both cold and hot feet problems. To use, wearer slides the very thin liners in any shoe or boot for a comfortable temperature in either winter or summer. Temperature of feet remains constant no matter where used. When standing on either hot or cold surfaces this insulating material maintains wearer's foot temperature at approximately 72 degrees(F) at all times.
When Weber was asked: "What kind of comments do you get from your customers?" He replied: "Here are a few quotes from our customers:"
"Ahh, warmth at last."
"The perfect solution to my husband's cold feet."
"They work very well in minus 45-degree weather, great find."
"Wow! These really work."
No cold toes or feet. No hot or sweaty feet. The Weber Toasty Feet foot warmer insoles are available in sizes for men and women and they are ready for immediate shipment.
One pair of Weber Toasty Feet Foot Warmer insoles (for either men or women) are priced at $24.95 per pair plus $3.60 (for First Class Mail shipping and handling within the U.S.A.) from Toms River, NJ. For more information or to order, write to: Originals By Weber, 338-Alabama Avenue, Toms River, NJ 08753. Call: 877-309-8382 or 732-864-0353. The following website is also available with a Video and complete details:http://www.yrret.stirsite.com/page/page/3934760.htm
# # #