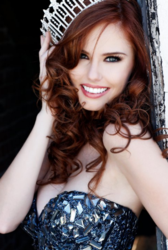 Los Angeles, CA (PRWEB) December 29, 2011
The MISS CALIFORNIA USA® pageant has registered the most contestants for any state in the history of Donald Trump's MISS USA® and MISS UNIVERSE® organization. Over 400 women are set to compete for the prestigious title of MISS CALIFORNIA USA and MISS CALIFORNIA TEEN USA 2012. The pageant is scheduled to take place on January 7 & 8 at the McCallum Theatre in Indian Wells, California.
"Continuing with the concepts introduced at the 2011 pageant, the MISS CALIFORNIA USA pageant in 2012 will emphasize individuality and push the envelope even further, distancing ourselves from most traditional pageants," according to Keith Lewis, Co- Executive Director of MISS CALIFORNIA USA and MISS CALIFORNIA TEEN USA. "This year's event will be bigger and reflect the progressive attitudes of the contestants as well as our forward-looking and thinking state," added Lewis. "We have changed the essence of MISS CALIFORNIA USA from a bathing-suit beauty contest to the style of a sexy runway show during fashion week."
The MISS CALIFORNIA USA and MISS CALIFORNIA TEEN USA pageants are judged by well-known celebrities and respected industry professionals on three main categories: interview, swimsuit and evening gown. All contestants are also reviewed on vital judging criteria including: character, poise, confidence and personality. The winner of the MISS CALIFORNIA USA pageant will go on to compete in the MISS USA pageant, the precursor to the MISS UNIVERSE pageant.
This year's judges include Joey Maalouf ("The Rachel Zoe Project"), Dulce Candy (YouTube Fashion & Beauty Guru/ Social Media Icon), Christie Bear (former TMZ producer), Christopher Mannor (Style Director at Beauty Entertainment Magazine), Elizabeth Rusnak Arizmendi (V.P. Rusnak Auto Group), Annie Roberts (Casting Director for E! Entertainment), Brehan Fitgerald (Executive Director of Feature Talent at 20th Century Fox Filmed Entertainment), Brian Worley (Co-Owner of YourBASH! Event Production), Justin Killion (V.P. Development with Original Productions), Lori Montoya (Owner & Co-Founder of Rain Cosmetics), Mark Harris (Co-Founder, WOW! Creations Media), Meg Day (Director of Women's Division for Vision Los Angeles), Ric Enriquez (Head of Casting for CONAN on TBS), Rich Orosco (General Manager, LA Matadors), Ronald Jason Palmieri (Celebrity & Entertainment Attorney), Stewart Goldman (Executive V.P. of Chinese Laundry Shoes and Accessories), Ty Griffin (Producer, "The Celebrity Apprentice", "The Glee Project", "Fashion Star"). The 2012 pageant will also feature an individual "Style Award" presented by world-renowned fashion designer Tony Bowls.
Last year, the state of California was fortunate enough to see its reigning MISS CALIFORNIA USA winner, Alyssa Campanella, move on to win the MISS USA crown and to be a top 16 semifinalist at the MISS UNIVERSE 2011 pageant. In lieu of such victories, the MISS CALIFORNIA USA pageant is a highly anticipated event; its contestants and winners have impressive pageant histories and have become very successful in the entertainment, movie, television and modeling industries.
To purchase tickets to the MISS CALIFORNIA USA® pageant please visit http://www.MissCaliforniaUSA.com or http://www.MCCallumTheatre.com/singletickets.php. Tickets range from $55-115 dependent on seat location and day/round of the competition.
About MISS CALIFORNIA USA® and MISS CALIFORNIA TEEN USA®
There really is no better opportunity for today's ambitious young women. The MISS CALIFORNIA USA® and MISS CALIFORNIA TEEN USA® Pageants bring beautiful young women from throughout the state to compete for this title and the chance to be crowned MISS USA® and MISS TEEN USA®. Stepping up the excitement for 2012, the pageant will increase the number of contestants, feature top designer clothes and incorporate more up-to-date music and programming.
The MISS UNIVERSE®, MISS USA and MISS TEEN USA Pageants are a Donald J. Trump and NBC Universal joint venture. If you are interested in information on the upcoming 2012 MISS CALIFORNIA USA and MISS CALIFORNIA TEEN USA events, you can call the state offices at K2 Productions at (310) 275-4339 or you may log onto http://www.MissCaliforniaUSA.com.
About McCallum Theatre
The McCallum Theatre is a historic, nationally renowned, state-of-the art theatre and concert venue located on the southern edge of Palm Desert, California. The venue, named after the Coachella Valley family, first opened in January 1988, the culmination of a ten year and $22M project; since opening, it has been home to nationally televised events and sold-out concerts.
The theatre itself is a breath-taking sight every step of the way, from the front doors to seating inside the concert hall. Upon entry, event and concert goers are greeted by neatly arranged palm trees, lit up majestically from the base, lining a perfectly paved driveway adjacent to the off-white, modern architecture that is McCallum Theatre. While the exterior of the building appears modern and chic, the inside reflects a much different feel, resembling the glamour and luxury of Old Hollywood. The pinkish-purple plush seats of the hall sit facing a classical image of rich, burgundy, velvet curtains draped across the vast stage, with all 1,127 seats, spread across three massive level, stretching remarkably into the sky.
# # #