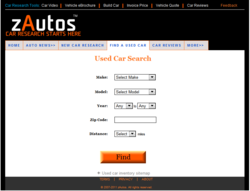 Irvine, Calif (PRWEB) December 29, 2011
Car research website zAutos.com introduces its web directory to help consumers find a 2005 Honda for sale. Viewers can browse over 46,000 Honda vehicles available, including more than 1,200 from the 2005 model year. zAutos offers a wide selection of the most popular Honda models like the 2005 Honda Accord, 2005 Honda Odyssey, and 2005 Honda Civic. Just click on the "Find a Used Car" tab from the front page of zAutos.com to get started.
The used car application has grown rapidly within the first few months of its launch date and now offers a selection of over one million used vehicles for sale from every corner of the nation. Not only does the zAutos used car application provide a wide array of vehicles to choose from, but its simple, intuitive design also makes the car research experience quick, easy, and painless.
Car shoppers can select the year, make, and model of their desired vehicle. To make the process easier, search results can be further narrowed by location, price, and vehicle mileage. zAutos can even locate available cars right in your zip code. Each vehicle listed will come with a gallery of images, description of its features, the seller's contact information, a map of the car's location, and an available history report courtesy of instaVIN. All the critical information you need to know before making a big purchasing decision is in one place.
zAutos.com is also a consumer's complete resource on new cars, offering over 4,000 instructional car videos, 10,000 vehicle eBrochures, vehicle quotes, and the new Build a Car application allowing users to create their own custom cars. The website also follows the latest auto news and provides in-depth car reviews. Through these features, zAutos is rapidly developing innovative ways to improve the car research experience for its viewers.
###