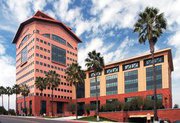 Now, with a new machine already widely used in Europe, the process of hair transplantation is scar free, less painful, and patient recovery time is dramatically reduced."
San Diego, CA (PRWEB) December 29, 2011
SHAFT™ SAN DIEGO, San Diego's premium aesthetic medicine practice providing the full range of advanced cosmetic procedures, announces the availability of the NeoGraft™ Scar Free Hair Transplantation procedure.
No scars. No painful recovery. No long downtime. NeoGraft™ offers a revolution in hair restoration.
Over 50 million men and about 21 million women in the United States suffer from male/female pattern baldness or hair loss. More than 40 percent of men will have a noticeable hair loss by age 35. Sixty-five percent of women will have noticeable hair loss by the time they are 60.
Due to the challenges of the current job market, social relationship competition, and the aging baby boomer population affected by hair loss, hair restoration procedures and treatments are one of the fastest growing segments in the aesthetic industry. Past hair transplantation procedures were time intensive, invasive, and required specialized skills that were developed over time.
NeoGraft is a revolutionary, FDA-approved automated hair transplant device. Most doctors only use the traditional manual strip method of transplantation, which requires the doctor to surgically remove a strip of scalp from the back of the patient's head.
With NeoGraft, hair is harvested without leaving the large linear scar associated with the strip method. The NeoGraft procedure is ideal for a man who wishes to wear his hair short, and for any woman who wouldn't be happy to have a large scar on the back of her head.
Now, with the NeoGraft method of "follicular unit extraction", or "FUE", hair follicles are gently lifted out of the scalp with a small instrument and light suction then placed into the bald or thinning areas with reverse air pressure.
NeoGraft offers several advantages over the traditional hair transplant methods. Since there is no long linear scar there is no need for painful stitches and healing time is significantly reduced. There is no residual hair donor area numbness and tightness caused by an incision. Results are generally much more natural appearing due to the precision of the harvesting and implantation process.
After planning the appropriate pattern of hair restoration for each patient, a small area of hair in the back of the head is cut short. Then a hand piece with a very small instrument, about 1 mm in diameter, extracts each naturally occurring follicular unit (containing from 1-5 hairs) from the scalp. By using gentle air pressure to slide out each follicular hair unit, there is no twisting, pulling or cutting, thus avoiding any damage. These hairs are then quickly implanted into the bald or balding areas, maintaining their viability and increasing the success of the grafting process.
Before the availability of the NeoGraft device, an FUE hair transplant session was often limited to transplanting 500 to 600 grafts in a day. With NeoGraft, up to 2,000 grafts or more can be completed in a single day, making the process much faster and easier on the patient.
WHAT IS THE "TRADITIONAL" METHOD OF HAIR TRANSPLANT SURGERY?
The traditional hair transplant method, and still the one most widely used, involves the surgical removal of part of the scalp. This scalp section is taken from the back of the head, where hair grows thickest, and the hair follicles from that section are transplanted along the hairline, on bald spots in the head, or wherever else is desired.
The scalp area, from which the hair follicles are taken, has to be stitched back together. This procedure, formally known as linear harvest follicular unit transplant, is also known as the strip system.
HOW DOES NEOGRAFT WORK?
NeoGraft utilizes a newer transplant system called follicular unit extraction, or FUE, in which hair follicles are removed individually from the back of the head. Under this minimally invasive method there is little danger of scarring, bleeding, or nerve damage.
FUE performed "by hand" has been too time-consuming and expensive for widespread use. The NeoGraft system offers technological advances that can reduce the time and cost of transplants, making FUE more practical for both men and women of all ages.
ABOUT SHAFT™ SAN DIEGO
Specializing in the latest advanced aesthetic medicine procedures, SHAFT™ SAN DIEGO offers NeoGraft™ Scar Free Hair Transplantation, MiXto SX™ Fractional Skin Resurfacing for acne scars and facial rejuvenation, PureLight™ Cellulite Heliotherapy, PowerX™ and Lipotherme™ Liposuction Surgery, LAVIV™ Cell Therapy, and NeoGraft™ LTS Acne Cold Laser as well as BOTOX®, Juvéderm®, Radiesse®, LATISSE® for eyelash growth, varicose vein and spider vein treatment, and laser hair removal.
For more information about SHAFT™ SAN DIEGO and NeoGraft, please see the Company's website at http://www.shaftsandiego.com.
###