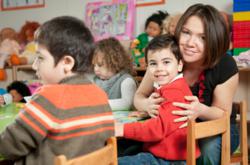 Because our website is operating 24/7, our new "web presence" will enable us to reach more customers and get the message out about our outstanding Rome daycare programs at the Winthrop Academy
Rome, GA (PRWEB) December 31, 2011
The Winthrop Academy, a premier Rome GA daycare center, has launched a website to serve its Northwest Georgia customers. The school has been in business for over 20 years without a formal presence on the internet. The new website provides a complete overview of the school including its comprehensive Infant, Toddler, Preschool and Pre-K programs. Each program is highlighted on the website with its own page. Each page provides an in-depth description of the program and also gives visitors a look at what a day in each program would be like for a child.
The Winthrop Academy also serves the communities of Cartersville and Cedartown GA with high quality child daycare in a safe and caring environment. The preschool has an extensive Infant Program which cares for infants from 6 weeks to 1 year old. The program includes mobility training, and developing intellectual and social skills. Winthrop teachers help infants grow through singing, talking and reading. As children move into the Winthrop Academy Toddlers program they receive hands-on learning through daily activities and class experiences. Teachers focus on providing entertaining and fun activities that help to exercise hand-eye coordination and early speech skills.
In the Winthrop Academy's Preschool program children are encouraged to gain self-esteem and grow as individuals. Preschool problem solving is taught through independent exploration, structured classes, and hands-on activities. The basics of numbers, literacy and science are also stressed as they move into Pre-K. In the Pre-K program Winthrop's certified Pre-K teachers get children ready for kindergarten. The focus is tailored to each Pre-K student's specific educational needs so they are well prepared for kindergarten. The Winthrop Academy Pre-K program is subsidized by the State of Georgia which can help families in need of financial assistance. During the summer the Winthrop Academy has a complete summer Day Camp operating 5 days per week. It provides a safe and fun place for children, 5-12 years of age during summer vacation from K-12 school.
Joey Cross, owner of the Winthrop Academy, commented on the schools new "web presence". "Our new website provides us with a way to reach our customers that we did not have previously. It enables us to provide a complete overview of our school online which can help parents get a feel for our Infant through Pre-K programs, before they come for a visit. The website can also help residents that are new to the Rome area find our school when they are searching for a Rome daycare center. Because our website is operating 24/7, our new "web presence" will enable us to reach more customers and get the message out about our outstanding Rome daycare programs at the Winthrop Academy."
The Winthrop Academy serves Rome GA and the nearby communities of Cartersville and Cedartown GA. The school is staffed with trained preschool teachers to ensure children are provided with the best in daycare from Infant to Pre-K. The school is located at 10 U.S. Hwy 411, Rome GA 30161 and can be reached from the contact page of the website or by phone at 706-236-2503 or by email.
###