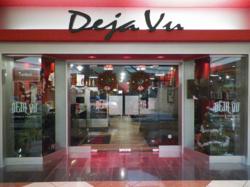 CEO, Mitch Brown's mission is to have Premier Upscale Tattoo & Piercing Studio's in every Shopping Mall across the US.
Winston Salem ,NC (PRWEB) December 29, 2011
Announcing the expansion of Déjà vu, tattoo and piercing studio located in Hanes Mall in Winston Salem, NC one of the few upscale tattoo and piercing studios with a presence inside of a shopping mall. CEO, Mitch Brown's mission is to have Premier Upscale Tattoo & Piercing Studio's in every shopping mall across the US. The Studio's beautiful Décor with hardwood floors, and a relaxing, aesthetic atmosphere makes Deja Vu one of the city's premier tattoo and piercing providers. Their four tattoo artists have a combined amount of 19 years' experience, and specialize in portraits and custom drawings all available in black & grey as well as color.
Piercings and tattoos are body decorations that go back to ancient times. No longer considered taboo, tattoos and piercings are now widely accepted by mainstream America and continue to gain in popularity. In addition to the veteran tattoo artists on staff, are two piercers, who have a combined amount of about 20years experience. Déjà vu provides all types of body piercings including dermal anchors and surface piercings. The entire Déjà vu staff is completely dedicated to making sure their clients leave the shop 100% satisfied.
Déjà Vu is expanding with its new sister company, Signatured Soulz which is coming to Four Seasons Mall in Greensboro in February 2012 for your tattoo & piercing pleasure. This upscale tattoo and piercing studio will be equipped with hardwood floors, environmentally toned wall coverings, top of the line tattoo chairs, flat screen TV's and Tattoo inspired merchandise.
Déjà Vu & Signatured Soulz are presently seeking investors for this exciting expansion and venture. Become a part of this growing trend. For more information please visit them at http://www.Biznessmeet.com , or call Mitch Brown at 336-306-9472 or visit on Facebook at; http://www.facebook.com/Dejavuink
Biznessmeet is free to join at http://www.Biznessmeet.com . Build, master and expand connections with this cutting-edge social network today! Remember it's not always what you know, but who you know.
###