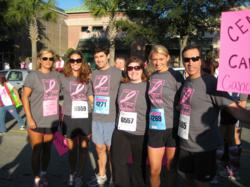 I am proud to be part of such a great team here at Cenegenics Carolinas, who took on this project with their usual passion. We fully expect to double our contribution next year.
Las Vegas, NV (PRWEB) December 29, 2011
The Lowcountry Affiliate of the Susan G. Komen for the Cure named Cenegenics Carolinas the top corporate fundraiser in Lowcountry's 18th Annual 5k race, announced Cenegenics® Medical Institute, the global leader in age management medicine. Dr. Mickey Barber—CEO/CMO of Cenegenics Carolinas—and her Carolina Crusher team focused on social media venues to raise funds and further public awareness on breast cancer risk factors and healthier living.
Barber's team raised over $6,000, surpassing their initial $5,000 goal, to aid the Lowcountry Affiliate's initiatives. Approximately 75% of the Affiliate's net proceeds go to service 17 local counties; the remaining percentage is forwarded to the national Komen for the Cure Award and Research Grant Programs, which support educational and scientific programs worldwide. Since its inception, the Komen Lowcountry Affiliate has invested over $4 million in local breast health/breast cancer awareness projects.
"I am proud to be part of such a great team here at Cenegenics Carolinas, who took on this project with their usual passion. We fully expect to double our contribution next year," Barber said.
For Barber, helping the local Race for the Cure was more than sharing a healthier living approach and breast cancer prevention with the public. It was personal. She lost her sister to breast cancer a few years ago and saw the race as a good opportunity to celebrate her sister's life.
"Our accomplishment in fundraising was particularly bittersweet for me since my baby sister Marta died three years ago at Christmastime. She was very involved in breast cancer awareness and civic projects from the time of her original diagnosis. I know she would have been right there with us during the race. "
To bolster participation in the race, Barber waived the registration fee for her team's participants as well as made a special donation in their name to the Susan G. Komen fundraiser ($50 for each patient who joined the team and $75 for every non-patient).
Physicians can learn more about age management medicine and training/certification opportunities by calling Cenegenics directly: Dr. Michael Resnick at 702.953.1574 or Dr. Tim Patel at 702.953.1577.
Visit Cenegenics' Facebook Fan page, follow them on Twitter and get patient celebrity blogs, health tips and news on their portal site, CenegenicsPost.
For more information about Cenegenics, please visit them online, where you can register for quick access to the online Cenegenics Healthy Aging Kit: informative Guide to Healthy Aging, Executive Summary and media excerpts.
For more information about Cenegenics' highly regarded, CME-accredited Physician Training & Certification in Age Management Medicine, please visit their nonprofit Cenegenics Education and Research Foundation site.
To schedule an interview, please contact Ann Castro, Cenegenics Director of Media Relations: 702.953.1588.
About Cenegenics
Cenegenics® Medical Institute has forged a paradigm shift in medicine, developing a proactive medical approach for optimized health hailed as "next generation medicine" and garnering worldwide media attention. Headquartered in Las Vegas, Cenegenics serves over 20,000 patients globally—2,000 are physicians and their families. Cenegenics has 19 centers with others opening in the near future: Las Vegas, Nevada; Charleston, South Carolina; Boca Raton, Florida; Dallas, Texas; Arlington, Texas; Atlanta, Georgia; Chicago, Illinois; Beverly Hills, California; Philadelphia, Pennsylvania; Washington, DC; New York City, NY; Tulsa, OK; Jacksonville, FL; Atlantic City, NJ; Houston,TX; Denver, CO; Scottsdale, AZ; Boston, MA. Cenegenics also offers CME-accredited physician training and certification opportunities in age management medicine via the nonprofit Cenegenics Education and Research Foundation (CERF).
###