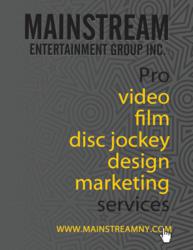 Multimedia Extraordinaire
Melville, New York (PRWEB) December 29, 2011
Mainstream Entertainment Group Inc. is a full service marketing and multimedia company serving the New York, New Jersey, and Connecticut tri-state area. The company, led by founder Cory Poccia, offers a full range of multimedia services for clients, including film and video production, web design, graphic design, DJ services, marketing solutions and more. Some production services include corporate video services, documentary work, weddings, birthdays, mitzvah celebrations, as well as music videos and band promotional videos. The company offers DJ event work and services for all types of special occasions, including weddings and corporate events. The company also offers design and printing services for numerous products, including invitations, post cards, newsletters, business cards, flyers, banners and more.
This March will mark the 2 year anniversary of the company as a corporation in New York State. In that time, Mainstream Entertainment Group Inc. has accomplished numerous accolades including their nomination as "Long Island's Best DJ" by the Long Island Press, a production contract with Spike TV, a division of MTV, to produce international TV spots, and consideration into the Communicator Awards for Excellence in Production.
In 2012, Mainstream Entertainment Group Inc. will offer some new services which includes iPhone, iPad, and iPod touch App Development and Video Invitations for Weddings. Current President and CEO Cory Poccia says "There are very few multimedia companies that offer such diverse selection of services. That's what makes us so special and completely separates us from the competition". Poccia has a tremendous resume, having worked with 2008 Oscar Winner Scott Rudin, Music Mongul Clive Davis, and Vince McMahon of World Wrestling Entertainment.
You can contact Mainstream Entertainment Group Inc. toll free at 877-618-0068, on the web at http://www.mainstreamny.com or on facebook at http://www.facebook.com/megcorp.
###