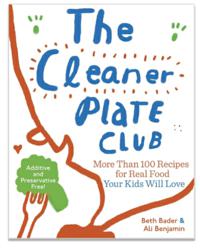 Without increasing my weekly budget, I increased our vegetable consumption at our evening meals by two vegetable dishes a night. It was no longer a battle of eat your veggies,' but a question of 'which vegetable would you like to eat tonight?'"
Pocantico Hills, NY (PRWEB) December 31, 2011
Beth Bader and Ali Benjamin met over kale chips, bonded over kids, and ultimately wrote The Cleaner Plate Club, a book that bridges the gap between the sustainable food world and real families getting food on the table several times a day. The book — which NPR-affiliate KCUR called "Michael Pollan for real people" — presents 100+ kid-tested recipes, and a vast array of friendly tips, and practical, friendly information for families trying to embrace more local, seasonal eating.
The event will be held at 1:00 p.m., January 14, 2012. Hear why Beth and Ali wrote the book, pick their brains about how to introduce more variety and nutrition into your family's diet, and sample a taste of a healthy snack they will make!
This event also offers a unique surprise. Benjamin and Bader collaborated on the entire book by phone and email only. This will be their first meeting in person and first event together to discuss The Cleaner Plate Club.
About the Authors
With two kids who range into the extremely picky end of the spectrum, Ali Benjamin, co-author of The Cleaner Plate Club, serves up real-mom advice right from the trenches of living it. For co-author Beth Bader, the battle is keeping her child to eating healthy in a culture of food marketing and processed food that is perfectly designed to replace our children's diets with cheap junk.
Together, Ali and Beth help parents understand picky eating behaviors; where they originate, and how to deal with them creatively to get kids to eat better — without any sneaking, lying or fights. And without the judging or holier-than-thou advice that parents don't want and don't need.
The Cleaner Plate Club also includes information to help parents understand all the overwhelming headlines about industrial food, its safety hazards, and the harm it has done to our environment and most of all, our kids. The book, written by real moms, provides all things parents need most:

An entire chapter on picky eating and how to deal with it.
How to get real food on the table when you have a real job.
How to cook with what is on hand, sometimes in 10 minutes or less.
How to cook without a recipe.
Why to avoid feeding kids processed foods and what parents need to know about the safety of those foods.
How to source sustainable meats and fresh produce on a budget.
How to get kids eating real food even if all they have ever eaten is "kid food."
How to understand and deal with picky eaters, both kids and adults.
A hundred good, easy recipes that were created under "real mom" conditions with real kids underfoot, using real food that gets eaten. Including vegetables!
Laughter and the conversational tone of a best mom friend.
The book has received excellent reviews from many publications, including The Sacramento Book Review:
"If you think that cookbooks geared towards children are all about "kid friendly" (and mostly nutritionally devoid) foods like chicken nuggets and mashed potatoes, you're clearly not reading the same cookbooks as I am. Authors and bloggers Beth Bader and Ali Benjamin both believe that having children should not automatically necessitate cooking one meal for the adults and a separate meal for the little ones. And their book, The Cleaner Plate Club, proves that they know what they're talking about.
This gem of a cookbook covers all the bases. Getting to know your vegetables. Quick breakfast and lunch ideas. Healthy dinners featuring all kinds of meats, and a superb selection of meatless meals. And packed in between are pictures, fun little anecdotes about the author's own kids, pertinent quotations and facts, and even educational blurbs covering topics from eating organically to the author's own version of the 'anti-diet.'"
From Sixty Second Parent:
"... I can't think of another cookbook that causes me to laugh out loud. From page one, I felt like I was sitting at my table with old friends. This isn't just a cookbook: it's an educational arsenal to wield your way with grace and dexterity through the carnival that is the modern American food system…Without increasing my weekly budget, I increased our vegetable consumption at our evening meals by two vegetable dishes a night. It was no longer a battle of eat your veggies,' but a question of 'which vegetable would you like to eat tonight?'"
Stone Barns Center for Food and Agriculture is located just 45 minutes north of Manhattan, New York. The address is 630 Bedford Road, Pocantico Hills, NY 10591 914 366 6200 x151.
For information, please contact Beth Bader at bethb(at)2boriginal(dot)com, 816 868 0445.
###