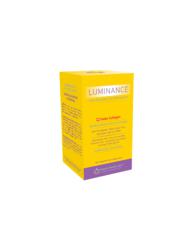 Using topical products is simply not as effective.
Boston, MA (PRWEB) December 31, 2011
Organic Health Labs new product Luminance attacks aging from the inside out with a supplement combining 41 ingredients. The science behind this approach should help an aging population to combat. Collagen is essential to maintain our skin's healthy and young appearance, but the body decreases production at 21 and wrinkles begin to be visible after 30.1
LUMINANCE is an anti-aging formula for men and women that fulfills several key functions in one product. By providing 41 premium ingredients LUMINANCE helps the self-repairing of hair, skin, nails and increase bone strength to delay aging. Using topical products is simply not as effective.
The typical nutritional deficiencies suffered today stem from poor nutrition and products lacking vitamins, minerals and amino acids, whose absence accelerates premature aging.
Luminance provides the necessary nutritional elements for elasticity and skin hydration, as it improves skin's appearance by smoothing wrinkles to look younger and radiant. Growth and hardening of nails, hair follicles strength, growth and natural shine and bone density are also supported with Luminance's formulation.
This is accomplished in two blends.
Swiss Collagen Anti-aging blend contains the highest quality hydrolyzed Swiss Collagen™ (type I & III). This high ORAC value formula protects cells, tissue and skin against aging and environmental damage while hydrating and providing skin elasticity, wrinkle reduction and radiance.
The Hair, Nail & Bone Health Blend improves blood circulation, aids in production of keratin, contains enzymes that repair damaged tissue and increases molecular cross-linking, critically important for strong bones, skin, hair, nail and cell renewal.
Among the 41 ingredients are:
Hyaluronic acid has the ability to retain water in an amount equivalent to a thousand times its weight. That is why it is used for hydration of the epidermis and reconstituting the fibers that hold skin tissue. This ingredient, in addition to smoothing skin folds stimulates collagen production, further enhancing its anti-aging benefits.
Pycnogenol is used to treat osteoarthritis, muscle pain, erectile dysfunction (ED) and an eye disease called retinopathy. Selenium, an antioxidant, helps neutralize free radicals and stimulates the immune system. PABA is an ally of the skin helping to reduce aging spots, wrinkles, stop hair loss and can help prevent or stop graying. Damage caused by ultraviolet radiation is also minimized by PABA. Alpha lipoic acid, a powerful antioxidant 400 times more effective than vitamin C and E, reduces dryness of the eyes and skin, promotes skin elasticity and smoothes wrinkles.
Luminance also contains MSM, calcium, boron and vitamin D3; key ingredients in fighting osteoporosis. Effective bone formulas must contain vitamin D3 to enhance the absorption of calcium and boron to help retain calcium in the body.
Luminance is a 'must have' daily supplement replacing creams and other products not complex enough to address aging in a natural way.
Organic Health Labs is dedicated to manufacturing healthy products, educating the public and improving the community. All products meet our strict high quality standards, include certified organic ingredients with no artificial anything, GMO free, complete and effective. "Loving you, loving the earth!" http://www.organichealthlabs.com
1. http://www.skincarephysicians.com/agingskinnet/basicfacts.html
###