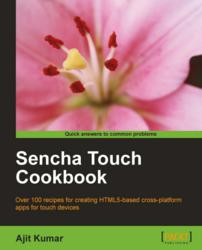 Birmingham, UK (PRWEB) December 29, 2011
Packt is delighted to announce Sencha Touch Cookbook, a new book that covers over a 100 recipes for creating HTML5-based cross-platform apps for touch devices. Written by Ajit Kumar, this book will enable users to incorporate geo location into their apps as well as to develop native looking web apps.
Sencha Touch is a versatile HTML5-based framework specifically built for Mobile Web. It can be used to develop user interface for mobile web applications that look and feel like native applications on supported mobile devices. It is fully based on web standards such as HTML5, CSS3 and JavaScript.
Sencha Touch Cookbook is a one stop resource for readers to learn about cross platform HTML5 application development. This book starts off by discussing basics such as setting up an iOS and Android development environment and then goes on to explain more complex development issues such as touch gestures, animation, rich media and geo location. Furthermore, the comprehensive selection of recipes in this book cover everything right from installation to HTML5 geo location.
Using this book, developers will learn to set up their own production environment, to add life to their application using animations and media, to make their application available offline, to engage users by responding to the events, and to map GeoLocation on Google Maps. Additionally, this book will provide developers creative inspiration through practical examples as well as the skills that they would need to implement their ideas.
Written in a cookbook style and presenting examples in the style of recipes, this book is ideal for anyone, who is familiar with HTML and CSS, and wishes to gain the practical knowledge involved in using Sencha Touch mobile web application framework to make attractive web apps for mobiles. To read more about the book, please visit: http://link.packtpub.com/BSw8G3
###