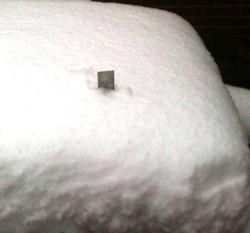 Roof leaks are often the result of negligence, poor maintenance, or sometimes by unfortunate acts of Mother Nature
Bloomington, MN (PRWEB) December 30, 2011
In preparation for the winter and holiday season Reroof America Management, the parent company of Reroof America Corporation and Reroof America Contractors, who installs thousands of roofs every year, knows how to make a quality roof instillation last. "Unfortunately many leaks are not due to poor workmanship, they can often be the result of negligence, poor maintenance, or sometimes by unfortunate acts by Mother Nature", said Mark Lenzer, Vice President of Reroof America companies.
Reroof America lists the top ten winter roof problems/ precautions as:
10. Christmas lights – Christmas lights fastened directly in to the roof's surface is one of the most common mistakes home owners can make in reducing the life of their roof and allowing the potential for roof leaks.
9. Debris removal – During the fall… trees shed leaves and small branches fall. With wind storms larger branches can also get blown on to roofs. Keeping a clear roof service is a matter of proper roof maintenance. Left unattended, debris and foreign objects on the roof can cause leaking or more severe roofing problems.
8. Failure to seal – Most roofing manufacturers will recommend that temperatures be at least 50 degrees Fahrenheit in order for asphalt shingles to seal. Roofs installed below that are at risk to blow of and of wind driven rain and ice to get underneath them. There is no shortcut here… the only thing that is capable of properly sealing asphalt shingles is the sun and warmer temperatures.
7. Covered vents – Have you ever driven around and see homes with plastic bags over their turbine vents? This is a "no no"… the vents are there to remove moisture from the attic. Keeping that moisture in will cause problems and potentially leaks. The best action is to have ample insulation on the floor of the attic and let the ventilation allow air to flow freely through the attic.
6. Gutter overflow – During the Fall… when the leaves fall they will fill your gutters. If the gutters are full ice, and snow are likely to cause even more problems. Once the majority of the leaves have fallen from your trees, you should have your gutters cleaned before the harsh winter weather comes (don't wait until the spring).
5. Snowy attic – Snow in the attic is typically caused by inadequate intake ventilation… That is that the exhaust ventilation is not actively working because there is improper air flow (allowing blowing snow to enter through the exaust vents. Always hire a roofer who is knowledgeable in regards to ventilation calculations when reroofing your home to solve this before it happens.
4. Chimney snow drift – Larger chimneys and chimneys that are located near side or head walls, are particularly vulnerable to snow drifts. This leaves the possibility for snow drifts and ice dams (see #10 below). Many people forget to use proper ice & water protection around the chimney… we recommend it around all roof penetrations.
3. Inadequate chimney cap – The chimney cap is often overlooked when reroofing. Winter months bring blowing rain and snow. If the chimney cap is inadequate, leaks can occur around the cap. Most often temporary repairs are used… we always recommend right-sizing the chimney cap or adding a cover.
2. Snow shovels – Snow shovels are for the ground… not the roof. Sometimes we get requests to remove snow from roofs… it is our policy to decline… its too dangerous and can cause severe roof damage and more roof leaks.
1. Ice dams – Ice dams will happen over warm attic space near the outside wall of the house. If your house is not properly ventilated, and there is no ice and water shield installed, then a roof leak is likely. Most northern states have code requirements for ice and water shield at all the eaves. However, this is still a problem in southern states where there is periodic times with snow accumulation… and where ice and water shield is not required by code, so extra protection is usually passed up by the property owner for a cheaper price.
Reroof America recommends consulting a professional roofing contractor for any roofing problems, as the problems may not be exactly what you think. "Often times homeowners' cause more problems than they fix… but understandably with the right intentions." said Lenzer.
About Reroof America
Reroof America Management Corporation is owned and managed by J.R. Emrich, President. The company's began in the roofing industry in 1979. J.R. Emrich and his companies operate debt free and utilize multiple suppliers in several states. Bonding capability is up to 4 million dollars. The Dun and Bradstreet credit rating for the company is 1R2 and the D&B # is 83-696-7372.
Reroof America is based out of Edmond, OK, having completed over 60,000 roofs in over 15 states over the past 32 years.
Reroof America's primary business is residential roof replacement; however several locations have commercial divisions, window divisions and offer other residential construction solutions. Reroof America is fully licensed and insured in all states within which it operates, and is a member of NRCA, BBB and multiple local and regional associations.
For Information About Reroof America Contractors, Reroof America Corporation, Reroof America Management, or Metro Roofing, contact Mark Lenzer at: 405-330-5400 or mlenzer(at)reroofamerica(dot com) or follow reroofamerica on facebook or Google+.
###