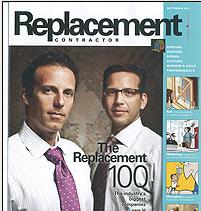 Wilmington, N.C. (PRWEB) December 30, 2011
The Replacement 100 list compiled and published by Replacement Contractor Magazine was released in September, 2011 and includes the remodeling industry's biggest companies ranked in order of revenue generated the previous year. Advanced Metal Roofing is proud to come in at #52 on this list and to have once again been recognized as one of the top replacement contractors in America.
Replacement Contractor Magazine is a respected national publication dedicated to providing home builders with home construction news and building product information as well as home design ideas and house plans. For the 2011 Replacement 100 list, the publication provides insight of the results including a big picture analysis of the home building and construction market and how companies have been able to achieve success in their respective fields.
The Replacement 100 lists the hundred largest companies in the home improvement industry nationwide, including roofing, metal roofing, siding, decking, and window companies as well as those that do interior contract work, such as kitchen-cabinet refacing, bath liners, and basement waterproofing. The companies are ranked in order of total revenue generated the previous year. The list also provides the number of jobs completed, the average job size in terms of revenue, current year revenue, and products carried. Of the one hundred companies on the list, only five specialize in a singular product, including Advanced Metal Roofing who offer only their exclusive metal roofing product, the MetalMan Roofing System.
Advanced Metal Roofing has provided metal roof systems and installation for homeowners since 1994. Their success in the home remodeling industry is attributed to the quality of the exclusive MetalMan Roofing System they carry as well as their customer service, knowledge, experience, and training. Their continued success in a time when the home construction industry has faced major challenges is due in part to their focus on retrofit work, or re-roofing on existing homes. Metal roof installation proves to be a smart, sound home improvement investment, providing homeowners with a strong return in terms of long life expectancy, durability, and energy savings.
"The quality of the MetalMan Roofing System, the warranties we provide on the roof, the long lasting Kynar 500 colors, and the price point we can offer in the face of our competitors combine to give Advanced Metal Roofing an edge in a very dynamic market," comments Advanced Metal Roofing owner, James Kenton. "We are excited to be once again recognized in a national publication among the most successful companies in our field. More importantly, this is another independent resource the consumer can use to judge the dependability of our company. Given the number of home improvement firms which have failed in the past three years, the importance of a company's stability to a customer can not be overstated. "
To see The Replacement 100 list and to read Replacement Contractor Magazine's own analysis of the results for this year, visit http://www.replacementcontractoronline.com/industry-news.asp?sectionID=0&articleID=1669395.
To learn more about Advanced Metal Roofing and the MetalMan Roofing System, visit http://www.advancedmetalroofing.com and http://www.metalmanroofing.com.
###