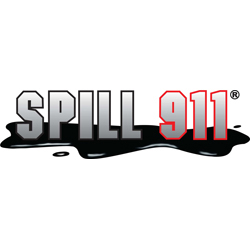 Westfield, IN (PRWEB) December 31, 2011
When a spill, no matter how small, occurs, quick and efficient cleanup is the proper procedure. If a chemical, oil, or solvent spills, the liquid can migrate across the floor or ground to a drain, where it enters the water supply and soon may contaminate the ecosystem. To stop pollution before it starts, full and effective spill cleanup involves containing and absorbing the substance. For this use, Spill 911, a supplier of spill kits and absorbents, is introducing a line of EcoTech™ Pads and Rolls. Able to absorb most substances, EcoTech™ Pads and Rolls are made out of recycled fibers rather than polypropylene.
The recycled fibers used for EcoTech™ Pads and Rolls accelerate wicking to absorb large quantities fast, and as a result, their strength and adsorption levels keep a workplace clean. The recycled fibers disperse liquid evenly, allowing mats to absorb up to 16 times its own weight. This concept makes them perfect for soaking up machine leaks and overspray. All EcoTech™ Pads and Rolls are made from 75-percent recycled newsprint, which helps keep a facility green, and the exclusive cellulose blend used is an eco-friendly alternative to polypropylene mats. To reduce landfill waste, these absorbent pads and rolls can be incinerated after use to reduce waste or for fuels blending.
EcoTech™ Pads and Rolls are tested in accordance with ASTM E84-08 and are fire retardant for added safety when the mat is exposed to heat.
Ideal for maintenance, general cleanup, or everyday use, EcoTech™ Pads and Rolls come in two types: LightWeight and HeavyWeight. Pads are 15 inches by 19 inches and absorb 27 or 39 ounces of liquid; cases include 100 pads. Sold individually, rolls are 30 inches by 15 inches and absorb 40 or 57 gallons. Rolls are perforated every 19 inches horizontally and 15 inches vertically, while pads are every 7.5 inches vertically. Rather than wasting a full pad or roll, responders can tear off only the exact amount needed during a cleanup; over time, this approach reduces a facility's cleanup costs.
Spill 911 began in 1995 and has expanded significantly since then. The company offers a full line of industrial absorbents and spill response kits, as well as products for spill containment, material handling, stormwater control, facility protection, and personal protection. The company's selection encompasses the top manufacturers and the highest quality products, and all are offered at low prices and backed with a 100-percent satisfaction guarantee. Press release services and search engine optimization provided by Keyword Performance.
###