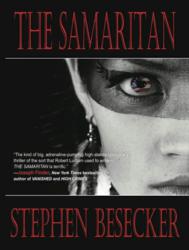 According to publisher Bruce Bortz, this latest accolade is an honor, but hardly a surprise.
Buffalo, NY (PRWEB) December 30, 2011
Thrillers were a popular genre in 2011. Bestselling authors Michael Connelly, Lisa Gardner, and James Rollins all put out successful new novels.
But according to a December 23 post from literary blog Books, Movies, Reviews! Oh My!, the year belonged to Buffalo, New York resident Stephen Besecker and his thriller debut, The Samaritan, published in June by Bancroft Press.
"The Samaritan was probably my favorite thriller read of this year," wrote blogger Stormi Johnson of Missouri. Besecker's novel tops the blog's list of Favorite Books read in 2011.
According to publisher Bruce Bortz, this latest accolade is an honor, but hardly a surprise. "The Samaritan has been praised by nearly everyone who has read it," says Bortz. "It was praised before we even published it."
Bortz refers specifically to the six bestselling thriller writers who blurbed The Samaritan prior to its release. Joseph Finder, the New York Times bestselling author of Vanished and High Crimes, the latter of which was adapted into a 2002 feature film, called The Samaritan "the kind of big, adrenaline-pumping conspiracy thriller of the sort that Robert Ludlum used to write." He added, "The Samaritan is terrific."
James Grippando, best known for Beyond Suspicion and A King's Ransom, called it "as thought-provoking as it is entertaining." Andrew Gross, Gregg Hurwitz, and Brian Haig praised the novel as well.
Even the aforementioned Rollins called it "intense, politically savvy, and frighteningly real."
Trade publications agreed. Bortz points to a review in Publishers Weekly that referred to The Samaritan as an "ambitious debut," and one from Jeff Ayers at Booklist, who wrote, "Besecker's intense debut thriller establishes him as a force to be reckoned with in the espionage genre."
According to Besecker, who's represented by Chatham Communications in Fairport, NY, "I tried to write a story that I would like to read, with a sympathetic and flawed main character who has a few demons to contend with."
As Stormi herself said in her original June 30 review, "One of the things I love about reviewing is that I get to come across some really great authors. Some of these authors I might not have picked up if it wasn't for a little nudging from others. I would recommend The Samaritan to anyone who loves to read action/thriller books."
Leading independent house Bancroft Press has published some of the country's very best fiction and nonfiction over the past two decades.
# # #