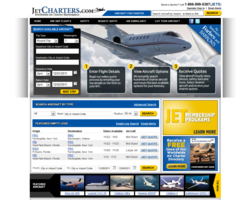 From a cost point of view, for some business travelers flying privately is cheaper than the cost of getting sick
Knoxville, TN (PRWEB) December 29, 2011
Germs don't wait for the fasten seatbelt light to turn off before they get up and start infecting air travel passengers. From the moment passengers walk onboard, germs are already running amok. JetCharters.com provides tips you can use this travel season.
Studies have shown that passengers onboard commercial airliners have up to a 20% increased risk for catching a cold on each flight taken due to a variety of different reasons.
To begin with, germs love the dry conditions on jets. Low-humidity allows germs to multiply rapidly and dry mucous membranes in the nasal passageways reduce the body's ability to fight off infection. Although many jets use filters that catch most of the airborne germs while in flight, the air circulation systems shut down for short periods of time during boarding or exiting and even during wait times on the ground, allowing germs ample time to infect passengers.
But breathing in germs isn't the only thing travelers need to be concerned about because as it turns out they are most likely to get sick from what they touch. Everything from the overhead baggage compartments to the tray tables to the seatback pocket to the lavatories is rife with all kinds of germs. Even the water on commercial jets can be germ-filled.
The Environmental Protection Agency reviews water on airliners because of E. coli concerns. When a passenger orders a hot beverage, sometimes the water used is straight out of the plane's tap and in some cases is not heated at temperatures high enough to kill any lingering bacteria.
Passengers onboard domestic flights are generally a little safer than their international counterparts solely due to the EPA's Aircraft Drinking Water Rule which was put into effect in October of this year and holds airlines accountable for ensuring the quality of their drinking water.
E. coli isn't the only germ passengers need to be aware of. Virtually all cold and influenza strains can exist on planes and can live upwards of 48 hours on non-porous surfaces.
With that in mind, think about what most people do and touch on flights. They load bags in the overhead compartment, shove personal belongings and tissues in the seatback pocket, read dog-eared magazines touched by countless other people, set laptops, drinks, or reading materials on tray tables, snuggle up with blankets and pillows used by other passengers, and use the cringe-worthy lavatories.
In a 2007 study by Jonathan Sexton of the University of Arizona, testing on tray tables from three major commercial airliners showed that 60 percent tested positive for Methicillin-resistant Staphylococcus Aureus (MRSA).
If MRSA can be found on tray tables of all things, imagine what is found in the lavatory. Commercial airliner lavatories are a smorgasbord of almost every germ imaginable. Fecal matter, MRSA, influenza (virtually every type including H1N1), and all sorts of other things that no one wants to touch let alone become infected with can be found in the lavatory. In addition, hand washing doesn't even offer much protection considering the water comes from the holding tanks which could act as swimming pools for E. coli.
The bottom line is that passengers on commercial aircraft are at a higher risk for contracting illnesses the moment they step onboard. This risk gets magnified given the fact jets are more full of passengers than ever before. The amount of packed flights in a day makes it impossible for each aircraft to be cleaned thoroughly between flights and so despite the best efforts by flight crews, germs get left behind waiting to infect passengers.
The best way to avoid these germs, short of wearing a mask and gloves, is to do the following 5 things:
1. Choose a seat towards the front of the plane where air circulation is the best
2. Wipe down tray tables, the seat belt buckle, the air conditioning vent, the arm rests and anything else you may touch with sanitizing wipes.
3. If a short flight, try to skip using the lavatory if you can.
4. Carry and use hand sanitizer on your hands especially after using the lavatory.
5. Don't use the onboard pillows and blankets. If you must, pack your own.
Although more costly, some travelers opt to take a private jet and skip the commercial route altogether.
"From a cost point of view, for some business travelers flying privately is cheaper than the cost of getting sick," Robert Hart, founder of JetCharters.com (http://www.jetcharters.com) said.
With all of this information about germs and your health in mind, remember the tips for keeping yourself healthy on commercial flights this season.
###