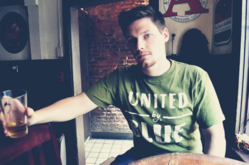 At every cleanup, our volunteers ask us, "What do you do with all that trash?" Now we have an answer.
Philadelphia, PA (PRWEB) December 29, 2011
2011 was a year of big milestones for United By Blue (UBB), the Philadelphia-based apparel company known for its organic cotton t-shirts with vintage nautical motifs and designs that embody forgotten beauty: UBB was a finalist in the Wall Street Journal's "Small Business, Big Innovation" and Businessweek's "America's Best Young Entrepreneurs" competitions. 2011 was the year United By Blue went international with retailers in Japan and with its first international cleanup. This year's cleanup season was the largest to date since the company was founded in 2010. Since then, UBB has removed over 80,000 pounds of trash at ocean and waterway cleanups around the country.
In 2012, UBB looks forward to addressing one of its biggest challenges. "At every cleanup, our volunteers ask us, 'What do you do with all that trash?'" says Brian Linton, UBB's Founder and Chief Trash Collector. "Now we have an answer."
After UBB became B Corporation Certified, the company reached out to fellow B Corp Method Soap. "I knew that Method was working on incorporating ocean plastic into their cleaning bottles," says Linton. "Method, with the help of recycling firm Envision Plastics, has created the first bottle made from post consumer recycled ocean plastic. We have a lot of plastic on hand from our cleanups, so it was a no-brainer for us to give our old plastic a new life in Method bottles."
In 2012, United By Blue will become Method's main suppliers of plastic types 2, 4 and 5 and will collect 12,000 pounds of these types of plastic during the 2012 cleanup season. The collaboration goes beyond just sending Method the plastic, as the two brands also plan to co-host cleanups.
UBB is looking to partner with other companies that upcycle items often found at cleanups such as plastic bags, plastic bottles, food wrappers and containers, aluminum cans, tires and Styrofoam. "At the end of our cleanups, we are left with more than just a pile of trash, we have hundreds of pounds of resources which could be turned into new products," says Director of Cleanups, Mike Cangi. "In the future, we would love to tell our volunteers that the bottles they collect will be made into a new bag or the Styrofoam pieces will be made into a new surfboard."
UBB is forming partnerships in our own backyard as well as across the country. Mayor Michael Nutter of Philadelphia recently visited UBB headquarters, where he shared a common passion and commitment to Philadelphia's waterways. Mayor Nutter has set a goal of making Philadelphia the greenest city in America by 2015. United By Blue looks forward to collaborating with the city of Philadelphia with city-wide river cleanup and educative initiatives later in 2012.
"It's a natural fit that an apparel company looking to make waves in its industry is headquartered in such a sustainably-driven city," said Director of Marketing, Alli Blum. "We look forward to more collaborations to make 2012 our biggest year to date."
United By Blue is an ocean-friendly brand of apparel that removes one pound of trash for every product sold. The brand sells a line of organic cotton t-shirts, canvas bags, and artisan jewelry.
###