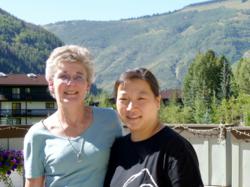 Vail, CO (PRWEB) December 29, 2011
After 25 years as a potter and a three-year apprenticeship, Tana Stewart throw's pottery with soul. Tana was born in Denver and married her soul mate Bill Stewart in 1965. After traveling the world with him they have settled down in Vail and now split their time between Vail and Japan, where she has a studio in a village of traditional craftspeople. Bill and Tana also own Alpine Tavern in East Vail.
For more information on Tana Stewart's jewelry go to http://www.sneakpeakvail.com and read the article titled "A chat with a Master Potter". Also, check out the Alpine Tavern's weekly music lineup in sneakPEAK Vail's event calendar.
The Alpine Tavern is not just Vail…..it's the best of Vail….in East Vail. It is located at 4695 Racquet Club Drive in East Vail. To make a reservations at the Alpine Tavern call 970-476-7888.
Tana Stewart is available for interviews. Please contact Tana directly at (303) 877-0828.
###