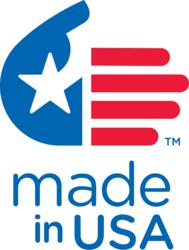 All Topricin formulas, packaging, and insert materials are proudly produced in the United States of America.
Rhinebeck, NY (PRWEB) December 29, 2011
Topical BioMedics, Inc., announces that its line of Topricin pain relief and healing creams has met the accreditation standards for earning the "Made in the USA" Brand Certification mark. This is the only certification mark registered with the United States Patent and Trademark Office for identifying goods either made or grown in the United States.
The "Made in USA" Brand Certification mark originated from Marcie Gabor, a principal at Conrad Phillips Vutech, a branding and marketing firm located in Columbus, Ohio. The mark is based on the Federal Trade Commission's regulations for complying with "Made in USA" origin claims, and was developed with the assistance of the law firm of Schottenstein Zox & Dunn, Columbus, Ohio.
The latest issue of Print magazine reports that the "Made in USA" logo has just been designated as one of the best in American design by a panel of judges that included Kim Bost of The New York Times; Brigitta Bungard of the Museum of Modern Art; Joshua Darden of the Darden Studio; Michael Freimuth of Sagmeister Inc.; John Kudos and Kiki Katahira of Studio Kudos; and Pum and Jake Lefebure, of Design Army.
Conrad Phillips Vutech explains the strategy behind the design by stating that the "Made in the USA" Brand certification mark icon creates the shape of an outstretched hand, while symbolizing the United States flag. The fingers of the hand appear in red as a tribute to the stripes on the flag. Cradled in a palm of blue, a single white star represents unity. The shape of a hand was chosen to stand for the products that are "made" by the hands of workers at United States companies. The icon appears in the position of a business handshake, which represents the promise of reliability and quality of goods and products made in America. According to Garbor, "The Made in USA Brand Certification mark brings attention to American products. American companies now have a distinctive registered certification mark for labeling the United States as country of origin on their goods."
Topical BioMedics' product line includes original formula Topricin Pain Relief and Healing Cream, Topricin Foot Therapy Cream that specifically targets painful foot and ankle conditions and injuries, and Topricin Junior formulated for children and for treating such skin conditions as eczema. The products--which have the distinction of being patented for the topical treatment of pain associated with neuropathy and fibromyalgia—sooth pain while helping to stimulate and support the body in healing the damage that is causing the pain.
Topricin is formulated from natural biomedicines and is free of parabens, petroleum, and other harsh irritants and hazardous chemicals. It has no known side effects and is safe for diabetics and pregnant and nursing women. The formulas, packaging, and insert materials are all produced in the United States.
Lou Paradise, Topical BioMedics' president and chief of research, says, "As a Marine Corps veteran who served two tours of duty in Vietnam as a helicopter rescue chief, I am extremely proud that Topricin has been made in America since it was created in 1994, and we're honored to have earned the "Made in U.S.A." Brand Certification mark."
For more information, visit http://www.topricin.com .
About Topical BioMedics, Inc.
Topical BioMedics is the research and development leader in topical regulated natural biomedicines for pain relief. The company's flagship product, Topricin® Pain Relief and Healing Cream, was introduced in 1994 and is now a leading natural therapeutic brand. A combination homeopathic formula, Topricin was awarded a patent for the treatment of pain associated with fibromyalgia and neuropathy.
The Topricin family of natural healing products also includes Topricin Foot therapy Cream, specially formulated to treat painful foot and ankle issues and conditions, and Topricin Junior for children (http://www.topricinkids.com) which received the Parent Tested Parent Approved Seal of Approval and is a designated Trusted Partner with Healthy Child Healthy World (http://www.healthychild.org).
All Topricin products are formulated with approved medicines as found in the HPUS (Homeopathic Pharmacopoeia of the United States) and are in compliance with FDA rules for homeopathic over-the-counter medicines. The products contain: no parabens, petroleum or harsh chemicals, are odorless, greaseless and non-irritating, and produce no known side effects, making them ideal and safe for the entire family. For more information, visit http://www.topricin.com.
# # #