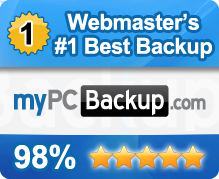 MyPC Backup beat out the competition because of their attention to customer service, low pricing, unlimited online backup model and a signup process that takes less than 5 minutes
Atlanta, GA (PRWEB) December 31, 2011
TheTop10BestOnlineBackup.com is bringing attention to the importance of online data backup in 2012 with their selection of MyPC Backup as the top company to protect consumer's important data with online backup services. TheTop10BestOnlineBackup.com uses a strict grading system by in-house experts and also factors in consumer ratings and reviews to fairly select MyPC Backup as their Webmaster's Choice.
"One feature that carried a lot of weight is that, MyPC Backup is now Mac compatible, which allows Mac users the same benefits of online data backup that PC users have had access to for some time now," according to the webmaster of TheTop10BestOnlineBackup.com.
Cloud storage and online backup have become household words this year and that is because more emphasis is being placed on the value of both personal files and personal data. Online backup companies like MyPC Backup, have created a safe haven, a virtual bank, for consumers to store their personal files in a secure, offsite location for retrieval at their convenience. Unlike a physical bank, online backup services are available 24 hours a day and 365 days a year, giving the online backup consumer complete control over their personal digital property.
Protecting the consumer's important digital photos, music and documents in 2012 has become a championed cause byTheTop10BestOnlineBackup.com. With the website's reviews and monthly webmaster's selections, TheTop10BestOnlineBackup.com wants everyone that owns a PC, Mac, tablet PC, laptop or smartphone, to have the protection of online backup in the upcoming year. A representative for TheTop10BestOnlineBackup.com stated, "If everyone makes computer protection and PC backup their New Year's resolution, then for just a five minute investment of time, they can have their files secured for the entire year."
TheTop10BestOnlineBackup.com Webmaster's Choice, MyPC Backup:
MyPC Backup received high marks from TheTop10BestOnlineBackup.com in value for money, reliability, upload and download speed, as well as for storage space and ease of use.
"MyPC Backup beat out the competition because of their attention to customer service, low pricing, unlimited cloud storage backup model and a signup process that takes less than 5 minutes," according to the webmaster for TheTop10BestOnlineBackup.com.
MyPC Backup offers an unlimited plan that is highly competitive. Their anytime money back guarantee and 100% automated backup are two great reasons why customers find MyPC Backup so appealing.
TheTop10BestOnlineBackup.com Website:
TheTop10BestOnlineBackup.com is dedicated to assisting consumers find the best pricing and quality of cloud backup service providers. The website is setup in a review format using both the opinions of experts in the field as well as the ratings of customers that have used the product.
To learn more about TheTop10BestOnlineBackup.com Webmaster's Choice, MyPC Backup, visit the website at http://thetop10bestonlinebackup.com.
###