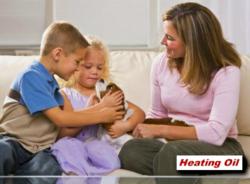 I was so happy when I found out that I won. I think this giveaway speaks volume to the type of company SC Fuels is trying to be. Thank You!

-Cindy W, Olympia, WA
Seattle, WA (PRWEB) December 30, 2011
SC Fuels has an unwavering commitment to providing the highest level of customer service and the lowest possible heating oil prices. SC Fuels is THE industry leader in the Seattle, Tacoma, Bremerton, Everett and overall Puget Sound region for home heating oil deliveries.
To say thank you to the Puget Sound region SC Fuels decided to go beyond the average heating oil company and give back to the community by giving away 500 gallons of completely free, no strings attached, heating oil. What better way to say thank you to the community than by giving away 500 gallons of free heating oil. The company is giving away a total of five separate 100 gallon deliveries. One each month between November and April, Washington's coldest months.
The giveaway was met with outstanding reactions the first month, November alone saw close to 600 entries. Cindy W. of Olympia, WA was the lucky winner of the first 100 gallons of free heating oil and she was ecstatic!
Month two of the giveaway is drawing to a close and there another 400 entries vying for the prize. The winner of the second drawing, which will take place on January 3rd will certainly be happy to receive a fantastic New Years gift. What a way to start 2012, saving money on your heating oil bill! If you haven't already head on over to http://www.SCFuelsNorthwest.com, follow the link to the contest entry form and enter quickly before the next drawing takes place. You might just be the lucky winner!
Besides specializing in home heating oil, SC Fuels also offers many other petroleum products. Petroleum products for the home include, stove oil, biodiesel, fuel additives and water dispersant s, water finding pastes, heating oil tank replacement agreements and furnace accessories.
SC Fuels also offers a great number of commercial fueling services and commercial lubricants. As a distributor of refined petroleum products since 1930, SC Fuels serves thousands of customers annually throughout the United States with a philosophy of service that has earned SC Fuels a leading reputation in the industry. SC Fuels maintains its position as one of the largest suppliers of branded, unbranded, and alternative fuels in the United States.
SC Fuels heating oil giveaway is an example of their company values, their dedication to service is unmatched. They pay attention and appreciate their customer base. They have formed strategic industry alliances, these alliances are always customer focused and they ensure that what is best for the customer is put before what is best for the company.
Besides home heating oil distribution and commercial fueling and lubricants they also provide many free resources which can be found directly on their website. Such things as oil tank charts so that you can measure the amount of oil you have left. A MSDS information page to ensure that you and your business are complaint with government regulations and custom payment solutions for home heating oil.
Make sure to enter the drawing before January 3rd for your chance to win a part of the 500 free gallons of heating oil!
###