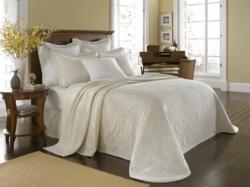 Each individual piece is constructed on a special weaving loom to create the luxurious design
New York, NY (PRWEB) December 31, 2011
Steeped in Historic Charleston's rich, classic style and decorative arts culture, the King Charles 100% cotton matelasse bedding collection offers the ultimate blend of European, Caribbean, and Asian influences. King Charles matelasse bedding offers a luxuriously soft bedspread, coverlet, bedskirt, shams and decorative accent pillows featuring classic 19th century motifs representing the sun, a topiary, a pheasant, and a pineapple.
Each individual piece is constructed on a special weaving loom to create the luxurious design that defines this lovely classic matelasse collection. Highs and lows created during the jacquard weaving process allow the motifs and surrounding designs to come to life. Intricate details including rolling arches, half moons, double diamonds and scrolling vines come together to create this beautiful collection.
In honor of this unveiling, Ellery Homestyles is happy to host the Sleeping Through a Winter Wonderland Sweepstakes to give consumers a chance to win their very own King Charles Matelasse bedding set, as well as other cozy gift items! Visit the King Charles Matelasse Collection Facebook Page for more product information.
Ellery Homestyles is a leading supplier of branded and private label home-fashion products to major retailers – offering curtains, bedding, throws and specialty products. Our proprietary brands deliver innovation in fashion, function and design and include Eclipse™ - the voice of authority for energy-saving, noise-reducing, blackout curtains; Curtainfresh™ - innovative curtains with odor-neutralizing technology developed in partnership with Church & Dwight, maker of Arm & Hammer®; SoundAsleep™ room-darkening curtains, The Official Curtain of the National Sleep Foundation; ComfortTech™ - the only blankets constructed with premium 3M™ Thinsulate™ Insulation, providing luxurious style, lightweight comfort and superior warmth; VUE™ – the home fashion brand that presents Ellery's "point of view" on fashion trends and design, Waverly® - the oldest continuously advertised home fashions brand in America recognized by consumers for its distinctive traditional looks and Historic Charleston Collection™ - the distinctive home fashions brand that is steeped in Historic Charleston's decorative arts culture. Ellery is a global company headquartered in New York City with a 375M square foot distribution center in North Carolina and offices in China, India and Pakistan. Please visit http://www.elleryhomestyles.com for more information.
###