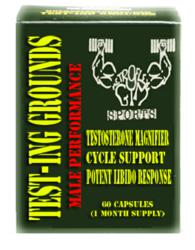 "Legendary Name, Unrivaled Results"
Arlington, Texas (PRWEB) December 31, 2011
While known for its superiority in the bodybuilding and powerlifting world, Metroflex Gym is no stranger to enhancing the bodies ability to push through what to some may seem inconceivable. The same philosophies have gone into the creation of it's Metroflex Sports Nutrition line. Metroflex Sports Nutrition is proud to have included an Ayurvedic approach to it's sports nutrition product offering. TEST-ING GROUNDS is a safe, proprietary selection of special herbs renowned for their testosterone enhancing properties. Simply stated, ancient science has crossed into modern hormonal management, allowing for positive, effective and safe alternatives to unproven, or otherwise dangerous solutions.
Media Contact
Noel Pena
noel(at)metroflexsports(dot)com
Metroflex Gym Founder
Bryan Dobson
metroflexgym.com
metroflexgym(at)att(dot)net
817-465-9331
###