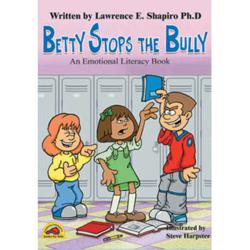 The iPad is a great platform for picture books of all kinds.
Woodbury, NY (PRWEB) December 30, 2011
Bibliotherapy has been a popular and effective way to help kids with emotional and behavioral problems for more than two decades. Childswork/Childsplay, a leading publisher of child therapy tools to help children has created dozens of self-help story books and has now partnered with Virtual Help Inc. to make six books available for the iPad.
The six books are part of the companies Emotional Intelligence Series, authored by child psychologist Lawrence Shapiro , Ph.D. The books include: Arnold Gets Angry, Betty Stops the Bully, Catherine Finds Her Courage, Debra Doesn't Take the Dare, Ethan Has Too Much Energy, and Freddy Fights Fat. Each book has an introduction by "Dr. Larry" and then presents the story of a child who successfully copes with a particular problem. The stories are narrated by children, and the narration is activated by just touching a button at the top of each page.
Self-help books for kids (sometimes called bibliotherapy) is a simple and effective way to help children deal with problems. These books give kids a "model" of how to behave and to think about their problems. They also stimulate conversations with adults about the things that are bothering kids.
Dr. Shapiro explains, "The iPad is a great platform for picture books of all kinds. They are half the cost of printed books, so they are very affordable for parents. With a touch of a button, the books can be read to kids who are poor readers. And teachers can use an LCD projector to project the books for viewing by a whole class."
Virtual Help Inc. has plans to license many of the popular books that Childswork produces and make them available on the iPad. Topics will include: dealing with separation and divorce, making new friends, handling fears, and many more.
Virtual Help Inc. is a leader in using technology to address mental health problems. The company develops web sites as well as smartphone apps and e-books. Childswork/Childsplay is a leading publisher of special needs resources (e.g. autism books and games) that address the emotional, social, and behavioral problems of children.
###